3 Nov
Electronic Blackjack Machines Not the Predatory Game some Think
The truth about Video Blackjack, strategy, and why these games are disappearing from casinos.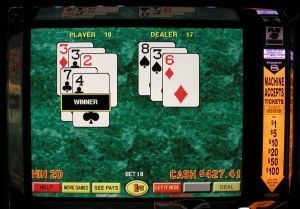 In years past, almost every casino with a table games license – for the electronic or live dealer variety – offered a game called "video blackjack". Imagine a typical video poker machine that deals electronic, single-player blackjack games, rather than classic 5-card poker. While they do still exist, in the last decade, they've become a lot harder to find.
There are a number of reasons why casinos are removing them from their capacious, hideously-carpeted floors. First of all, they just aren't all that popular; we'll get into why in a moment. Secondly, they aren't profitable enough; at least, not when you compare them to other games. And third, there are more high-tech replacements taking over their floor space.
If you do happen to find one, though, take a seat. Look over the rules. If they're favorable, it's actually one of the easiest, lowest house edge games in the casino.
The Original Electronic Blackjack Machines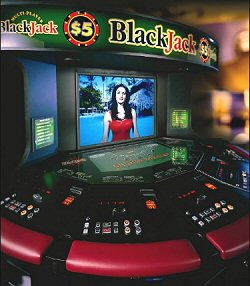 Today, an electronic blackjack table looks very similar to a live dealer table. There are only two notable differences. The dealer is an automated hologram on an LCD screen, and the cards appear digitally on the table. Traditional video blackjack looks more like a classic video poker game, with a single seat for a single player.
The games also accept much lower wagers than a multi-player blackjack game. Where you can expect live table minimums of $5 an up, these electronic video machines often start as low as $0.25 up to $1. That's one major advantage. Most are single-deck games, which is also great for keeping the house edge low. Plus, you can slow play each hand, using precise strategies with no fear of irritating other players.
Video Blackjack Strategy
If you do find such a find, here's the best way to play it. First, look to see if a natural blackjack pays the proper 3-to-2. If it's anything less, don't bother. Some video blackjack machines have been known to pay 1-to-1 on a blackjack. This can increase the house edge from as low as 0.05% to 2.8%. It's not worth it.
If the blackjack pays are good, take a look at the other rules, like dealer hits/stands on soft 17, late/early surrender, and when you're allowed to split and double. Then, get yourself a blackjack strategy chart that follows the game's rules. Don't worry, they're super easy to find online.
Next—and this is super important—only place bets in 2-unit increments. The machines will round down on a blackjack payout. If you wager $1 on a $1-minimum game, you'll only get back $1 on a blackjack, despite the 3-to-2 pays. If you wager $2, however, you'll get $3 back. Suffice to say, they don't make change.
Last but not least, don't bother trying to count cards. Much like an RNG-based online blackjack game, the digital deck is reshuffled after every hand. Counting cards will get you nowhere.
Why Video Blackjack Games Are Disappearing
At many major casinos, these machines are being replaced by new, high-tech "blackjack stadiums". They are best described as a casino version of a school room, with multiple desks lining the floors. Except those desks are electronic gaming kiosks. They're all linked up to a single live dealer at the head of the classroom, making room for dozens, sometimes hundreds of players to participate in a single game.
Furthermore, as I said before, video blackjack games are no longer profitable for casinos. Because they tend come with the best house rules, and accept lower bets, casinos don't make much money off of them. They can pack more players in, and charge higher minimums, at standard tables and blackjack stadiums.
With that being said, you'd think their popularity wouldn't be an issue. However, for years, many players have avoided video blackjack games. There's a false stigma around these machines; the same stigma that exists around online blackjack games. Players tend to think that, because it's electronic, the casino can alter the house edge to make players lose more. But that's not the case.
The RNG is programmed to deliver the same unpredictable shuffling odds of a genuine deck of cards. It's the side rules (blackjack payouts, dealer hand rules, etc.) that determine the actual house edge. A player who finds a game with favorable rules, then uses basic video blackjack strategy, will have the same odds as at a live blackjack table.
#1 Canadian-Friendly Casino

Jackpotcity.com  is our editorial pick for your gaming needs. Currently offering an entire suite of casino games, as well as a wide range of Canadian deposit options, JackPotCity truly offers world-class gaming.