7 Jun
Ultimate Guide to Online Casino Baccarat
Everything you need to know to play online baccarat for real money.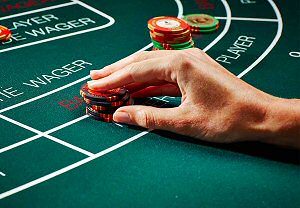 Baccarat is one of those casino games that tend to intimidate new players. Casinos and Hollywood film makers are at fault for this. Movies like the classic James Bond flick, Casino Royale (1967), portray baccarat as a game for the wealthy, and many casinos propagate that aura by roping off the tables in opulent VIP fashion.
It wasn't until online casino baccarat came along that more players felt comfortable trying this popular game. No crowds, no penguin suits required – just log on, choose a bet, and play. Since then, many land-based casinos have made the game more inviting for casual player, too.
In our Ultimate Guide to Online Casino Baccarat, we'll answer a lot of questions you may have about the game. If the rules intrigue you, you'll find additional info on strategies, how to practice them, and how to elevate your game to real money wagers.
How do you play Baccarat?
Although the rules of hand calculation may seem complicated at first, this is actually one of the easiest casino games you'll ever play. You don't really play the game at all. You simply choose a bet—Player hand, Banker hand, or Tie—and wait for the results. The dealer does all the grunt work, based entirely on house rules.
How are the hands calculated?
Each hand, Player and Banker, receives two cards. Standard card values apply, with Aces being 1 point, Face cards 10, and all other cards their respective, numerical value.
The two values are added together, and if the total reaches 10 or more, the first digit is dropped so that only a single-digit number can result. For example, a hand of 6+7 would equal 13. The 1 is dropped for a final total of 2. If dealt two face cards, for a total of 20, the 2 is dropped, and the result is 0.
In general, the highest hand wins, but a few things can alter whether a hand receives another card or not. The following rules apply:
Player or Banker has 8 or 9 – all hands stand.

Player total is 5 or below – Player takes third card, otherwise stand.

Banker totals 5 or below and Player stands – Banker takes third card.
How do you win Baccarat?
Baccarat is won by placing a correct wager. There are three possible bets:
Player Hand: A bet that the Player hand will be closer to 9 than the Banker.

Banker Hand: A bet that the Banker hand will be closer to 9 than the Player.

Tie: A bet that both Player and Banker will have the exact same total.
If your selection wins, you win your bet. The payouts are as follows:
Player Bet: Pays 1-to-1 (even money)

Banker Bet: Pays 1-to-1, minus commission (usually 5%)

Tie Bet: Pays 8-to-1
Why does the Banker's hand charge commission?
Because of the way the house rules are arranged, the Banker has a slight advantage over the Player. To help the casino make up for this, a commission is charged on all wining Banker bets.
Is there a winning Baccarat strategy?
Yes. Despite the commission charge, the Banker hand still has a lower house edge than the Player hand. The casino's edge on Banker is 1.06%, while the Player is 1.24%. The edge on a Tie is astronomical, at 14.36%.
Clearly, the best strategy is to bet on the Banker every time, and never, ever bet on a Tie!
Can I play online Baccarat for real money?
Yes you can. There are many online casinos that offer real money baccarat games at a wide range of stake levels, from minimum $1 bets, up into the hundreds, if not thousands. There are even live casino baccarat games, where players participate at a real table, with a real dealer, streamed via live HD-quality video direct to your desktop, laptop or mobile device.
The key is to find a reputable online or live casino; one that's been around for years with a stellar reputation for quick payouts and customer satisfaction. Make sure that players from your country are accepted, and that there a enough payment options to suit your needs.
Can I play Baccarat online for free?
Yes! In fact, free online games are the easiest way for new players to get their feet wet. Play as long as you like to become familiar with the rules and payouts. Then you can play online baccarat for real money whenever you're ready.
#1 Canadian-Friendly Casino

Jackpotcity.com  is our editorial pick for your gaming needs. Currently offering an entire suite of casino games, as well as a wide range of Canadian deposit options, JackPotCity truly offers world-class gaming.
About the Author
Adalene Lucas: is our jack of all trades here at DBC. She is a skilled coder, gambler, writer and webmaster. She lives in Manitoba where she enjoys the lush landscapes and camping near Tulabi Falls. Nature gives her inspiration to write. When she's not immersed in nature, her favorite words are "game theory". She lives with her husband and their two Labradors, Kophy and Whisper.