9 Apr
Get Rated to Get More Comps from Casinos
How to get rated for comps (and why it's a must!)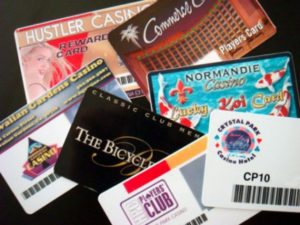 Getting the highest possible amount of comps from online casinos is easy. As soon as you register an account, you're automatically entered into the loyalty program. Every wager earns comp points, and the more you play, the higher your level becomes. If you're eligible for extra comps, you'll get them by default.
The same cannot be said for land-based casinos. Every one of them offers a player's club card program. But you'll have to sign up for the card to take advantage of comps. Most players already know this. But not everyone knows you can get rated to get more comps from casinos.
Why Do I Need to Get Rated?
If you're playing slot machines, video poker, or any other electronic form of gambling, you can insert your club card before you start. Your game play is tracked, and comps awarded accordingly. The same is not true for live dealer table games. Blackjack, baccarat, pai gow poker, craps, roulette – you won't get comped automatically for these.
In order to receive the highest comp value, you need to be a rated player. Land-based casinos employ floor walkers who keep an eye on all rated players. One of their jobs is to keep track of the average amounts a rated player wagers, how long they play, and how risky their bets are.
On average, as a rated player, you will receive anywhere from 30% to 50% of your probable losses back in comps. That's on top of the comps you're already receiving just for being a player's club member.
How to Get Rated for Comps
There are two ways to get rated for casino comps. Most players don't become rated until one of the floor managers notices them. The floorperson will come right up to someone who's been playing for awhile and ask if they'd like to be rated. This is the wrong way to do it.
The correct way is to find the floorperson yourself, before you ever place a single bet. Walk right up to them. Say that you're about to play (blackjack, baccarat, roulette, craps, whatever). Let them know you'd like to be rated first. This way, every single bet, every hour spent at the table, counts.
Making the Most of Comp Ratings
To get the highest value from comps, it's not about how much money you're spending, but how much time you're spending money. The casino's number one goal is to get players to stay in the casino, and to come back for another visit. They know that the more time a player spends there, the more they are likely to lose in the long run. Therefore what a player wins or loses in a single session is not nearly so important.
With this in mind, the casino won't consider you a valuable player if don't spend enough time there. You could drop $1,000 on a single spin of the roulette wheel, lose it all, and walk out. They'll appreciate the grand, but nothing more.
However, if you spend hours placing $10 bets on roulette, and lose $100 before you leave, you are going to be rated as a valuable player. You are the person they will expect to come back and do it again, with the right amount of urging. Thus you'll get more comps from casinos than a single-wager high roller who's potential for return is unpredictable.
Knowing how to get rated for comps, and how to take full advantage, is the best way to make the most of your time at any land-based casino. Play it smart. Get rated first!
#1 Canadian-Friendly Casino

Jackpotcity.com  is our editorial pick for your gaming needs. Currently offering an entire suite of casino games, as well as a wide range of Canadian deposit options, JackPotCity truly offers world-class gaming.