12 Mar
Tech Tips: Real Money Casino Games for iPhone X
iPhone X Real Money Casinos: Modernization accommodates new technology.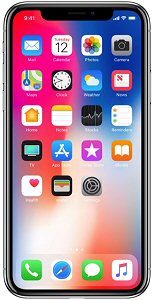 Technology is a fascinating thing. In terms of the mobile revolution, hardware and software manufacturers are always working in tandem to modernize their collective industries. With each new release of mobile tech comes new software to accommodate its users. Thus developers are working hard to deliver real money casino games for iPhone X; the latest and greatest smartphone from Apple Inc.
First, a bit of history…
Apple Introduces iPhone X
On September 12, 2017, the Steve Jobs Theater in California played host to the unveiling of the new iPhone X. Apple debuted the device as the future of smartphone technology, releasing it to the world on November 3, 2017.
The iPhone X breaks the mold for iOS devices in a number of ways. It is the first Apple smartphone to feature an OLED screen, stainless-steel casing, and wireless charging. Its most prominent selling point is Face ID, an authentication method that grants access to the device via advanced facial recognition. As such, the traditional 'Home' button is no longer present. The device works entirely on a Face ID and swipe-based gesture interface.
The name, iPhone X, has been a conundrum for some iPhone fans. After all, the X ("10") hit shelves a year before the iPhone 9, which should debut in September of this year. Not to worry, they didn't lose track and skip any numbers – it was intentional. The name iPhone X relates to the company's 10 year anniversary, since releasing the original iPhone in 2007.
iPhone X Real Money Casinos
Now that the device has been on the market for half a year, online casino software developers are all caught up. Big name brands like Microgaming, NetEnt, Playtech and more have dotted all their i's, crossed all their t's, ensuring their colossal portfolio of games run seamlessly on the new iPhone X.
It wasn't a difficult procedure for them. The fact that all mobile casino game designers are now utilizing HTML5 automatically shores up most loose ends. This method of coding employs a superior mark-up language that is universally compatible with almost every operating system still in existence.
All desktops, laptops, smartphones and tablets are able to disseminate the script; a far cry from the incompatible nature of previous coding technologies. In those days, separate software had to be written for Windows, Mac, Android, iOS, etc.
Quality of Real Money Casino Games on iPhone X
Although I don't own one of these devices myself – that US-$999 MSRP price point is a bit too steep for me – I did get a chance to try out a few casino games on it recently. I have to admit, it's a marvelous piece of machinery that features exquisite game play.
Each slot machine, table game, video poker tiles, etc. loads incredibly fast. It features crystal clear graphics and animation. The 5.8" screen size ensures a wide-angle view, while the 458 ppi, 2436×1125 resolution guarantees you won't mistake even the tiniest font size or card suit. Touch-screen calibration is spot on, too. It's truly a thing of beauty.
Where to Find iPhone X Casinos & Games
Generally speaking, there are two ways you can enjoy casino games on iPhone X. You can simply navigate to the website of a reputable gambling operator, create an account, make a deposit and start playing. Or, you can hit up the Apple iTunes website for real money casino apps compatible with iPhone X.
Due to the HTML5 coding method mentioned above, playing games directly in a browser is the most convenient way to play these days. Plus, Face ID security technology ensures the safest experience possible when accessing reputable gambling websites. You'll find a wider variety of games available here, as well, often numbering well into the hundreds. Since there's no download, you won't be clogging up any of your internal storage space, either.

If you prefer apps, the iTunes store is a good place to find them. Apple maintains an open policy towards gambling apps, so long as the app's developer operates under proper licencing and regulation, and only provides the app in region's where it's legal to do so. Many of the world's oldest and most respected operators have real money casino apps on the iTunes store; famous brands like LeoVegas, Royal Vegas, Spin Palace, Platinum Play and more.
The key to finding safe, reputable (and compatible) iPhone X real money casinos is due diligence. Look for an operator that's been around for years, supports regulatory compliance, boasts fair play certification, and employs leading software suppliers.
#1 Canadian-Friendly Casino

Jackpotcity.com  is our editorial pick for your gaming needs. Currently offering an entire suite of casino games, as well as a wide range of Canadian deposit options, JackPotCity truly offers world-class gaming.