8 Mar
Evaluation of PaySpark Casino Deposits & Withdrawals
PaySpark Casinos Canada: Weighing higher complexity against ultimate security.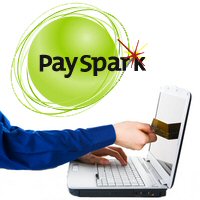 With such a vast selection of payment methods available to online casino gamers, it can be frustrating trying to decide which is best. Security, efficiency, convenience, cost, expedience; these are just the most prominent concerns most internet gamblers face when choosing a payment option.
PaySpark is one method you may want to consider. It's not the cheapest way to manage an online casino balance, nor is it the most convenient, but in terms of security and speed, you won't find much better.
What / Who is PaySpark?
PaySpark is a web wallet, or eWallet service, that allows users to set up a virtual online banking account. Members can transfer money directly into their account by credit card, debit card, or bank wire transfer, then use the funds to make purchases at online casinos and other merchant websites.
PaySpark is a part of CSC24Seven Ltd, a company registered in and operating under the E-Money Laws of the Republic of Cyprus. Further credentials include a licence to issue e-Money by the Central Bank of Cyrpus. CSC24Seven was founded in 2003 by CSCBANK SAL and DataCash Services Ltd.
CSC24Seven also owns and facilitates online payments through the popular EziPay web wallet, which works in tandem with PaySpark.
PaySpark Casinos Canada
At a glance, it may appear that PaySpark isn't available at many online casinos. In fact, only a very small handful of Canada-facing websites actually advertise this banking instrument. However, PaySpark woks hand in hand with its sister-Web Wallet, EziPay.

Any online casino or merchant that displays the EziPay logo will also accept PaySpark payments. This increases the availability of PaySpark casinos in Canada by more than 600%. Simply choose EziPay as your payment method, then enter your PaySpark account details as instructed.
Complexity of PaySpark Accounts
The complexity of registering a PaySpark account is one of the biggest turnoffs for potential users. Unlike almost every other online payment processor on the market, you can't simply sign up an account. Users must be invited to register with PaySpark.
In order to receive an invite, you must log into an online casino that accepts PaySpark / EziPay and choose this method of deposit. The online casino will then send the request for registration. Soon after, you'll receive an email with initial login details to complete the sign up process (including choosing your own secure password).
The purpose of third-party registration is to provide ultimate security to all users, and KYC (know your customer) assurance to the payment processor. That goal is further accomplished by requesting identity verification from all new account holders. This step is not mandatory, but highly recommended. Here's why…
Identity Verification Process
Prior to verifying your identity, there will be very strict usage limitations on your account. You may only fund the eWallet with up to €2500 (or currency equivalent) per calendar year, and may only withdrawal up to €1000 from it in the same time frame. Once identity verification is complete, those limits should increase substantially, at CSC24Seven's discretion of course.
To authenticate your personal information, you'll be asked to submit copies of two verifiable documents. These include a government issued identification card (passport, driver's licence, etc.), and a copy of a utility bill, not more than 6 months old. The name and address reflected on the bill must match the registration information supplied when joining the online casino and PaySpark service.
The good news is, once complete, you'll never have to go through this process again.
PaySpark Casino Deposits & Withdrawals
Aside from the initial registration and authentication process, PaySpark deposits are incredibly fast. They take no more than a minute to show up in your casino account balance. To make a deposit, choose PaySpark (or EziPay) from the list of deposit methods, enter the amount you wish to deposit, and follow the basic instructions.
Cashing out funds from the online casino is a similar process. Choose PaySpark / EziPay as your method of withdrawal, enter the amount, and follow the instructions. It generally takes anywhere from 3-6 days for this money to appear in your PaySpark eWallet.
To get your hands on that cash, all account holders will receive a PaySpark ATM card featuring the MasterCard logo. The first card is free, but there's a replacement fee of 15.00 if the card is lost/stolen, so keep it safe! You can use this card at any ATM machine or retail location in the world that displays the MasterCard logo. It can also be used to make online purchases anywhere MasterCard is accepted.
#1 Canadian-Friendly Casino

Jackpotcity.com  is our editorial pick for your gaming needs. Currently offering an entire suite of casino games, as well as a wide range of Canadian deposit options, JackPotCity truly offers world-class gaming.
About the Author
Adalene Lucas: is our jack of all trades here at DBC. She is a skilled coder, gambler, writer and webmaster. She lives in Manitoba where she enjoys the lush landscapes and camping near Tulabi Falls. Nature gives her inspiration to write. When she's not immersed in nature, her favorite words are "game theory". She lives with her husband and their two Labradors, Kophy and Whisper.