23 Apr
Farkle Dice Game for iOS & Android
Farkle Dice Game Review: A look under the hood of Fabros's mobile Farkle app for Android and iOS.
Farkle is right up there with Yahtzee, battling it out for top position among the world's most popular family dice games. Although no one's really in agreement as to whether it's been around a few decades or a few centuries, there's no doubt Farkle greatly out-dates the high-tech smartphones and tablets the game is often played on today.
In the following passages, we'll be exploring the entertainment value and scope of the mobile realm's most popular Farkle dice app. It's been installed by hundreds of thousands of fans, and having sampled a few of the top-rated Farkle apps myself, I have to agree this one is worthy of the title 'Best Farkle App' for both iOS and Android powered device.
If you aren't very familiar with Farkle, you may wish to check out some of our other information text before you go any further:
Review of Mobile Farkle Dice Game
Farkle Dice Game is one of more than 50 mobile Farkle apps found on the Google Play and Apple iTunes app stores. What sets this one apart is its superior ranking by actual players of the game. It was built by a smaller digital dice gaming development group called Fabros.
This Farkle game has a lot of the features you would expect, including single player, multi-player and tournament modes. The graphics are simply stunning and sound effects realistic. Best of all, it's a very straight-forward game. If you know how to play Farkle, you'll have no trouble jumping right into the action. Otherwise, tap Settings and the Help button to get a run down of the rules and special features before you start.
Let's take a quick look at the game specs from the Apple and Google Play stores, current at time of writing.
Specifics
Android – Google Play
IOS – Apple iTunes
App Store Link
Farkle Dice Game for Android
Farkle Dice Game for iOS
Star Rating / Reviews
4.6 * / 24k+
4.4 * / 2.5k+
Compatibility
Android 4.0+
IOS 8.0+
iPhone, iPad, iPod Touch
Content Rating
Teen*
4+yrs
File Size
16MB
134.3MB
Price
Free w/ Ads & In App Purchases of $1.99 – $29.99
Free w/ Ads & In App Purchases of $1.99 – $29.99
*Google Play has given this app a rating of "Teen" for "Suggestive Themes". There's nothing I would call "suggestive" about this game (the standard definition of a suggestive rating being for sexual content). I honestly believe this was a mistake, and that the rating they were going for was "Simulated Gambling". Coins can be wagered, won, and spent to purchase items. Surprisingly, Apple – known to be much stricter with its content rating – defines the game as appropriate for ages 4+.
Mobile Yahtzee App Features & Game Play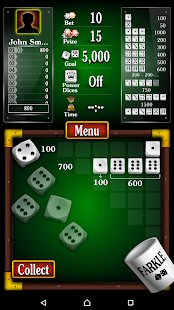 My favorite thing about this game is its simplicity. There's nothing complicated about it. If you love Farkle, you'll love this Farkle app, period.
Before you get started, tap the settings icon in the bottom left, where you can toggle on/off the music, sound effects or notifications, change your user name, or get help on the game's rules and features. If you really enjoy the game, you can tap Remove Ads, paying $3.99 to purchase the full ad-free version.
When playing, you can choose from one of three modes, Single Player, Multi Player or Tournament.
Note: Unlike standard rules, which require a minimum score to Open (first roll only), this game has a minimum score per play. Every roll of the dice requires you to score at least 300 points to bank. It's annoying at first, but you get used to it quick, and it's actually quite helpful in getting overly-cautious players to take more risks.
Single Player Mode
Single player is a self-competition version of the game. You'll have the option to turn Power Dice On or Off (it's Off by default). Without Power Dice, it's just a standard game. With Power Dice, you'll have one chance to double any score (2x), one chance to roll all 6 dice again (R+), and one chance to negate a Farkle (-F). In exchange for these perks, you'll need to reach a higher target score to win.
You'll have 10 rolls to complete the chosen score target, and must roll a minimum of 300 points to bank (collect) the points. Before you start the game, you'll choose a bet size of 10 to 150 coins. Reach the target score and you'll win a corresponding amount of coins and Power Dice, depending on the chosen level of difficulty.
Target scores (with or without Power Dice) and rewards are as follows:
| | | |
| --- | --- | --- |
| Target Score | Score w/ Power Dice | Reward for Winning |
| 5,000 Pts | 9,000 Pts | 3 to 2 Coins + 1 Power Dice |
| 6,000 Pts | 10,000 Pts | 2 to 1 Coins + 2 Power Dice |
| 8,000 Pts | 13,000 Pts | 8 to 1 Coins + 5 Power Dice |
| 10,000 Pts | 15,000 Pts | 30 to 1 Coins + 10 Power Dice |
Multiplayer Mode
These games are just like the single player version, except for two things. First of all, you'll be competing against one random, live opponent. Second, each player gets an unlimited number of rolls. The first to reach 5,000 points wins the game. Players can bet 50, 100, 250, 500 or 1,000 coins – winner takes all. Again, Power Dice can be toggled on or off. When using Power Dice, the target score rises to 7,500, and optional bet sizes increase by one digit each (i.e. 500 instead of 50, 1,000 instead of 100, etc.)
Tournament Mode
Tournaments are a unique beast to conquer. They can last 1 hour, 12 hours, 1 day or 1 week, with variable rules. You'll be able to scroll through all current tournaments to see the cost of entry, rules (Power Dice On or Off), time remaining and prizes for 1st, 2nd, and 3rd place. You'll compete against 20 other players, and can continue playing games to try and increase your score until the time runs out.
Ads and In-App Purchases
This game does not overwhelm you with ads, which surely has something to do with its high app rating. You'll be shown an ad before and after each game of Farkle. Most ads you can immediately press the back button on your phone or tablet to skip. On rare occasions, you'll have to wait a minimum 5 seconds before closing the ad.
Tap the Shopping Cart icon and under the Chips tab, you can buy a hoard of chips or Power Dice for anywhere from $1.99 up to $29.99. Having a lot of chips comes in handy, too, as you can spend them to customize your game, purchasing new dice and/or rolling cups in red, black or gold.
Join the Farkle Dice Game Community on Facebook for special promo codes that will earn you extra chips. New codes are generally posted with each new season or holiday, and are worth anywhere from 10,000 to 20,000 chips each.
Codes that worked for me include FALL, WINTER, SPRING, SUNNY, 2018, XMAS, and THANKS. That should be enough to put you in the 6-figure chip range to start.
Conclusion
I have to say, this mobile Farkle app really does live up to its high user ratings – at least, it did for me. A very small percentage of people have complained that the app doesn't work, that it crashes constantly, or that they can't compete in multi-player games because the opponent never shows up to play. I have not experienced any of these issues.
If you enjoy it already, I highly recommend this Farkle game for iOS and Android mobile devices. It's terrifically addicting!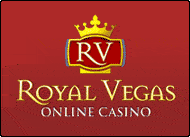 Royal Vegas offers a wide range of casual card games for fun or real money. Everything from keno, bingo and scratch cards, to even blackjack and texas hold'em. Safe, and fun.