24 Oct
True Value of Online Casino eWallet Processing Fees
Are web wallet fees worth the expense for online gamblers?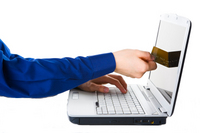 Go to any online casino these days, and odds are the list of available payment methods (deposit and withdrawal) will be longer than a greedy child's Christmas list! So many options—how do you pick just one, and know that it's the right one?
There are lot of factors to take into consideration. Is it the most secure? Is it the fastest? Does the company behind it have a good, long-standing reputation? Will it cost money to use it, and if so, how much?
As responsible online gamblers, we want positive answers to each of these questions. Unfortunately, it's so rare that a single payment method checks off all the right boxes.
One method that does tend to get the most affirmative responses is a web wallet; aka eWallet or online payment processor. The only position they don't fare as well in is the cost factor. Some of them can be expensive, depending on your level of gambling. The real question is…
Are Web Wallet Fees Worth the Expense?
The fees associated with online payment processors can vary greatly, depending on the brand of choice and how you use them. For purchases (i.e. online casino deposits), they are usually free. You can set up an account for free, link it to a bank account, credit or debit card for free, and transfer money to an online gambling site for free. The fees don't generally come into play unless you're processing a withdrawal from the casino.
Different web wallets will charge a different amount, but you can generally expect to pay anywhere from 1.5% up to 3% of the total withdrawal. Is it worth it? There are a few ways we can answer that questions…
True Value of Online Casino eWallet Processing Fees
The most exceptional benefit of using a web wallet for online casino payments is the peace of mind. Companies like ecoPayz, Neteller, PayPal and Skrill have extremely solid reputations for safety and security. They employ the same strict security measures as government-run online banking websites. It really doesn't get any safer than that.
Bearing this in mind, it's hard to say that paying a nominal fee to retrieve your cash isn't worth it. Knowing that your payment will arrive, in a timely fashion, is enough for most player to choose this route.
Then again, just how much money are you going to be withdrawing? The type of player you are could have a significant impact on the value of a web wallet withdrawal.
If you're a casual gambler who's ready to request a pay out once your account hits $50 or $100 in winnings, even a 3% fee is only going to cost you between $1.50 and $3. If, however, you're a high roller with $5,000 ready to claim, a 3% fee becomes $150. Ouch!
In this case, I would not recommend using an online payment processor, unless it happens to cap its processing fees at something like $5-$20.
How to Avoid eWallet Fees
Alternatively, you could avoid web wallet fees altogether by only using them for deposits. When it comes time to withdrawal, you can either have the cash transferred directly into your bank account, or sent via paper cheque through the mail.
High rollers would do well to choose the bank transfer. While this will cost some money, it's going to be a flat fee. Most banks charge $15 to $20 for an international transfer. That's a lot cheaper than a percentage-based fee for a four-figure withdrawal. For smaller amounts, paper cheques are free, but will they take longer to arrive.
#1 Canadian-Friendly Casino

Jackpotcity.com  is our editorial pick for your gaming needs. Currently offering an entire suite of casino games, as well as a wide range of Canadian deposit options, JackPotCity truly offers world-class gaming.
About the Author
Adalene Lucas: is our jack of all trades here at DBC. She is a skilled coder, gambler, writer and webmaster. She lives in Manitoba where she enjoys the lush landscapes and camping near Tulabi Falls. Nature gives her inspiration to write. When she's not immersed in nature, her favorite words are "game theory". She lives with her husband and their two Labradors, Kophy and Whisper.