22 Dec
Evolution launches Live Dealer Texas Holdem Bonus Poker
Live Texas Holdem Bonus Poker now available at Evolution casinos.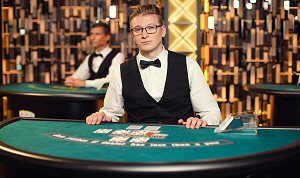 Most companies hire big marketing teams to vividly promote the release of any and all new products. Evolution Gaming knows all about marketing techniques, but they also have a tendency to let the universal recognition of their brand do the talking for them. That could explain last week's quiet release of their new Live Dealer Texas Holdem Bonus Poker.
This is just the latest in a recent strain of new live dealer games, most of which came with no resounding announcement. It shows just how much they trust in their brand's popularity. Being the honorable recipient of EGR's Live Casino Supplier of the Year Award for eight years straight, I guess it doesn't take much fanfare to get the word out.
Another factor in the discreet nature of the release could be the limitation of the initial launch. For now, only a few select Evolution casinos, including LeoVegas, are offering the game. A unilateral roll out is expected to occur following the New Year.
Live Texas Holdem Bonus Poker
This latest addition to Evolution's gaming menu is essentially an upgrade to their existing Live Ultimate Texas Holdem tables. That game has been available for some years now. But this new version offers a lot more flexibility for gamblers.
There are only two major differences between the new Texas Holdem Bonus Poker and the old Ultimate Texas Holdem games. First of all, this one comes with a shiny new progressive jackpot. Secondly, players can bet up to 4 times, not just two.
In the original Ultimate game, players would place a Blind and Ante bet (of equal value) to start off the hand. They then had only one opportunity to Check or Raise after seeing their hole cards. The entire set of community cards would then be dealt, resulting in a win, loss or tie.
In the Bonus Poker variant, the table felt includes a trio of additional betting circles, appropriately labeled Flop, Turn and River. Thus, following the initial Blind and Ante bets, players can Check or Raise prior to seeing the Flop (first three community cards), the Turn (fourth community card) and the River (fifth and final community card).
This version is clearly more akin to the traditional, PVP version of Texas Holdem Poker. But, as with all house-banked live dealer games, a player need only best the dealer's hand to win; not every player at the table.
How To Play Live Dealer Texas Holdem BP
We've already discussed the betting process. All you need to know now is how to win the game. Each player, and the dealer, will have 2 hole cards of their own. There are 5 community cards played to the table throughout. Each player combines their hole cards with these community cards to create the best possible (highest ranking) poker hand.
What happens next depends on a few variables…
Most importantly, the dealer's hand may or may not qualify. The dealer must have at least a pair or better to qualify. This will directly effect which bets you can win.
If the Dealer's Hand Qualifies, the following will occur:
Player Wins: Ante and Raise bets pay 1:1, Blind bet pays according to progressive pay table.

Player/Dealer Tie: All bets are a push.

Dealer Wins: All bets are lost.
If the Dealer's Hand Doesn't Qualify, the following will occur:
Player Wins: Raise bet pays 1:1, Ante bet is a push, Blind bet pays according to progressive pay table.

Player/Dealer Tie: All bets are a push.

Dealer Wins: All bets are lost.
#1 Canadian-Friendly Casino

Jackpotcity.com  is our editorial pick for your gaming needs. Currently offering an entire suite of casino games, as well as a wide range of Canadian deposit options, JackPotCity truly offers world-class gaming.