28 Apr
How Real is Virtual Blackjack Online?
Real Aspects of Mobile Blackjack – What's Important & What's Not

One of the main reasons so many people avoid playing blackjack online is because they don't feel like they'll get the authenticity of a land-based experience. To an extent, that is true. You're not going to be seated next to other players, sipping beverages, nudging congratulations on a good hand, or bantering about the cocktail waiter/waitress across the way. As for the actual blackjack game, however, playing online isn't much different. In some cases, it's so close to the real thing, you might even prefer it to a land casino.
Real Aspects of Mobile Blackjack
I'll start by covering all of the parallels between playing blackjack in person and on a computer or mobile device. Then we'll talk about which of those features should be important to you, and which ones really don't matter in the greater scheme of things.
Game Rules and Structure
An online blackjack game incorporates the exact same rules and structures as the games found at casinos in Vegas and beyond. Just like the real games, there are dozens of online editions to choose from. Each is played with some slight variation to the rules that will impact the overall house edge of the game, for better or worse. If there are 8 decks in the casino's shoe, there are eight computer-generated decks in the virtual shoe. Split, double, insurance, 7-card charlie, they exist in both realms. Thus the games, rules and house edge are exactly the same.
Random Shuffling and Probabilities
Just as a computer program generates the cards in full graphic display for an online blackjack game, it can shuffle them just as efficiently and randomly as any professional dealer or physical card shuffling device. The chance of receiving any card, at any time, is precisely the same as it would be in a live game. In fact, digital games undergo rigorous certification testing by independent auditors to prove that their probabilities are exactly the same as playing with a physical deck or shoe.
Live Blackjack Online
Not all "online" blackjack games are computer generated. Years ago, operators came up with the brilliant idea to host real blackjack games from warehouse studios. The space is designed to mimic that of a real casino, utilizing professional dealers, tables and cards. Instead of bringing players to the tables, high-tech video and audio equipment brings these real tables to the players via live streaming technology. In this way, live dealer blackjack games are as close to real as it gets without stepping foot into an actual casino.
What's Important, and What's Not
As I said, some things are more important than others when it comes to a genuine blackjack experience. The rules and game structure are important, as is the promise of a provably fair game that matches the probabilities of a land casino. As for other factors, it really depends on what you want to get out of the experience.
If you're looking for friendship and camaraderie, a basic online blackjack game is not going to provide any social enjoyment whatsoever. These are single-player games played against a computer dealer. you'd be better off playing live dealer tables, where numerous players can commune with the dealer and each other via real-time chat while playing. It's not 100% realistic, since you can't look other players in the eye, but it's pretty darn close.
On the other hand, if you're a professional looking to increase the number of hands per hour, computer-generated blackjack games are perfect for you. All you have to do is find the game rules that offer the lowest house edge, and you're off to the races. Odds are, you'll find better payout percentages online than you will in Vegas, anyway.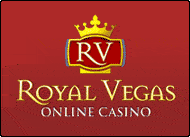 Royal Vegas, the #1 rated Casino for Canadians offers a thrilling and secure live gaming experience. Players are catered to by real dealers via webcams. That, and a world-class gaming experience, with innumerable card games and fun for everyone ! RV has been in the business for a very long time, a decade long. Thumbs up !