31 Jan
Half Back 21 Rules and Advisory Guide
How to play Half Back Blackjack, a game where players can wager less on weak hands, and risk more on strong ones.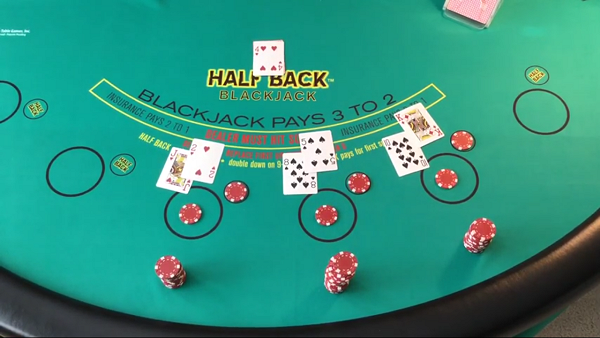 Half Back Blackjack is one of those 21 variants that gives players a superbly friendly rule, in exchange for a largely unfriendly counter-move by the house. In this case, players make two bets to start, and are able to withdraw one bet when their starting hand is weak. When stronger hands are dealt, both bets remain active for an elevated but controlled risk. However, the dealer has weak-hand privileges of his own.
This game first showed up at the Cutting Edge Table Games conference in 2015, where it earned its creators, Paradigm Table Games, a second place ribbon in the best new game category. Soon after, Half Back 21 made its trial debut at the Eagle Mountain Casino in Porterville, California, about 300 miles due west of Las Vegas, Nevada. It is not known how many casinos, if any, currently offer this game. If you do see it, here's how it works.
How to Play Half Back Blackjack
In most ways, Half Back 21 follows the standard rules of blackjack, with a few deviations to make things more interesting. I'll start with the advantages to the player, followed by the trade-off for the house, then a few adjustments you could come across from one casino to the next.
Half Back Bet
The game's namesake feature is the Half Back bet. Players are required to make two equal wagers to start the game. One is the Main bet, the other is the Half Back bet. If the player's starting, 2-card hand totals anywhere from 13 to 16, the player will have the option to reclaim the Half Back bet (i.e. taking half back). If the total is anything else, the Half Back bet must remain in play.
Additionally, if the player chooses to split their hand, they cannot withdraw the Half Back bet. This wager will instead become the wager applied to the newly split hand. If the player doubles down before a split, and with both Mai and Half Back bets still on the table, the player only doubles the amount of the main bet.
Now for the bad news…
Dealer Replaces 3-6 Upcard
If the dealer's up-card is a 3, 4, 5 or 6, it will automatically be discarded and replaced with the next card in the deck/shoe. Fortunately, this can only be done once per hand. To make matters worse, the dealer will peek for blackjack, and will collect all bets – including all Half Back bets – before players can act. These factors combine for a strong enough counter-strike to give the house an advantage of 1.3%, all rules considered.
To help compensate for the up-card replacement rule, player's have the option of placing a side bet that can win up to 20:1 if the dealer's upcard is replaced. See Upcard Bonus Side Bet below for more details.
Note
Some have argued that the Half Back rule is hardly any different than the Surrender rule, but that's simply not true. When surrendering a hand, the player receives a portion of their bet back, and the rest is forfeited. The hand is folded at that point, and taken as an overall loss by the player. In this version, the second half of the bet remains on the table. The hand continues, with the player still capable of winning or losing.
The standard rules for Half Back Blackjack are as follows. By these rules, the house edge is 1.30% (RTP 98.70%):
Specific Rules of Play
Decks: 6
Soft 17: Dealer Hits
Doubling: Yes, on two-card hard 9-11 only
Splitting: Yes, up to 3x
Double after Split: Yes
Draw to Split Aces: No
Resplit Aces: No
Surrender: No
Dealer Checks for Blackjack: Yes
Tie for Blackjack: Push
Blackjack Pays: 3 to 2
Variations
According to Paradigm's licensing structure, casinos can alter some of the basic rules. It is possible that the dealer will stand on soft 17, instead of hitting. The game may utilize 6 or 8 decks, dealt from a shoe or continuous shuffling machine. Normally, a dealer blackjack will push against the player's blackjack, but according to Paradigm's tutorial video, the player could win 1:1 on blackjack ties. Note that any such variation to the rules above will impact the house edge, for better or worse.
Upcard Bonus Side Bet
In addition to the base game, player's have the option of making an Upcard Bonus side bet before any cards are dealt. This is a wager with a two-part requirement to win. First, the dealer must receive a 3, 4, 5 or 6 as his initial up-card. If not, the bet is lost. Second, the dealer's replacement up-card must be anything but a 3, 4, 5 or 6. If it is, the bet is lost. However, if both of these requisites apply, the bet wins according to the following pay table.
| | |
| --- | --- |
| Dealer's Replacement Up-Card Is or Results In | Payout |
| Blackjack | 20:1 |
| Ace | 8:1 |
| 10 or Face Card | 3:1 |
| 7, 8, or 9 | 1:1 |
| Anything else | Loss |
| House Edge = 3.43% | |
Half Back 21 Strategy
A strategy for Half Back Blackjack has been provided by the game's creators, Paradigm Table Games. My thanks to the technician that wrote this out so that I don't have to 🙂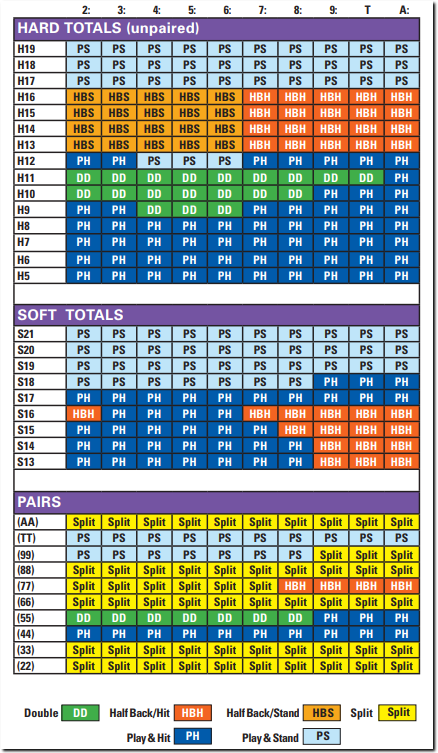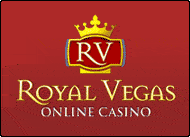 Royal Vegas, the #1 rated Casino for Canadians offers a thrilling and secure live gaming experience. Players are catered to by real dealers via webcams. That, and a world-class gaming experience, with innumerable card games and fun for everyone ! RV has been in the business for a very long time, a decade long. Thumbs up !