30 Sep
The Hottest Live Blackjack Dealers on the Web
Live dealer casino with the most attractive dealers online.

As members of a conjugal society, we've all heard the old cliché; "It's okay to look, but do not touch!" Of course, looking has gotten more than a few men and women in trouble, especially where the length of admiration becomes excessive, or where the term "looking" my be better substituted for "ogling". But we can't help what our eyes see in every day interactions, and if what they see happens to be pleasant, what's the harm?
One of the perks of gambling at a live casino is that the dealers are all real, living, breathing people who are professionally trained to do their jobs, whether it be dealing cards or spinning a roulette wheel. These dealers undergo the same extensive education and hiring protocol as the dealers working in a land-based casino (and then some, learning to use a range of sophisticated live casino technology). As such, they also happen to be held to the same standards of any occupation in the public eye.
If you've ever been to a real casino, you've probably noticed the dealers are all clean-cut and dressed to the nines. As representatives of the casino, they are expected to maintain a certain level of distinction. They dress well in sleek, form-fitting attire, often issued by the establishment. The ladies are required to maintain elegant hair and make-up, while the men are well-groomed, having little or no facial hair.
It's Not Just Casinos…
These are the same standards upheld within any line of employment where the individual spend the majority of their working hours under the scrutiny of clientele – everyone from a hotel concierge to the local TV weatherman is expected to maintain an air of grace and allure. As such, it's no wonder that the players who access live table games might be drawn to the most attractive live casino dealers.
There's no shame in it, either. If you've ever watched a movie because you thought the lead actor/actress was a hot, then you can certainly understand the reasoning behind it, and at the same time, alleviate any guilt you may feel by seeking out a…
Live Dealer Casino with the Most Attractive Dealers
Let me start by saying the dealers you see in each operator's advertising banners are not what you can expect to find on the felt.
While they could certainly distract you from any valiant attempt to count cards at live blackjack, most of them are hired models in front of a green screen.
Don't get me wrong. There are definitely some good looking folks flipping cardboard at live casino studios these days. However, among the 16 major live casino operators on the market today, there's a rather transparent pecking order when it comes to which companies take stock in beauty before hiring, and which ones might be conducting their interviews over the phone.
Gorgeous Ladies of Live Dealer Casinos
For the lady-killers out there, I have two primary recommendations – EntwineTech and Microgaming. Opus Gaming's live dealers are quite attractive as well.
EntwineTech Dealers Rank #1 in Beautiful Ladies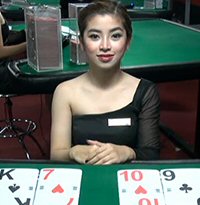 EntwineTech is the top pick, but there is one notable drawback. Based out of Manila, Philippines, the company hires mostly oriental dealers – all female. Each and every one is gorgeous, without question, and they always have an inviting smile to welcome their clientele. The problem is that they don't interact with the players whatsoever.
I actually believe – and I've said this before – EntwineTech chose to disable all sounds in its systems because their dealers are so incredibly beautiful. I can certainly imagine a few unsavory characters making derogatory comments during the games. Perhaps to make sure this doesn't happen, and save their employees from embarrassment, volume has been set permanently to "mute". You can't even interact via textual chat.
Microgaming Playboy Live Casino Bunnies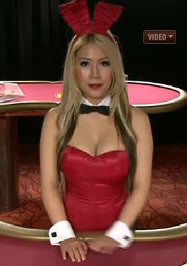 Next up is Microgaming's exclusively branded Playboy Live Casino tables. As the trademark name suggests, all of the dealers at these tables are genuine Playboy Bunnies, dressed in archetypal Bunny regalia. As such, they are professionally trained in both casino dealing and mild flirting with the customers. However, like all of Microgaming's live tables, there's a mechanical feel to it all, as if the dealer's were trained a bit too well. They react to each situation as if they're programmed, lacking any natural or improvised interaction.
There's no question as to whether these gals have sex appeal, but they aren't the most interesting. Plus, I would recommend these tables for single patrons; not those in a relationship. This kind of brand-name "looking" could get you in hot water with your significant other!
Opus Gaming A Hot Bed for Beautiful Dealers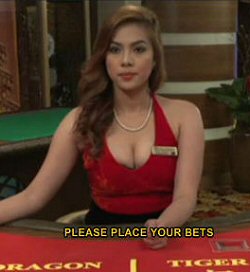 Opus Gaming is another great choice for live dealer casinos with the most attractive dealers. Again, they're all female, with the word "voluptuous" taking on a very definitive meaning. Asian heritage dominates the table selection, but not entirely. However, this is another live casino where audio is disabled, so you won't be interacting with them directly.
Sexy Male Dealers at Live Casinos
If you were hoping to find some hot men dealing the games, you're not entirely out of luck, although the selection is drastically reduced. Unlike the feminine side of the coin, there is no live dealer casino that employs only men – certainly none of the "Playgirl" model variety. In fact, there isn't nearly so much focus on hot guys behind the tables.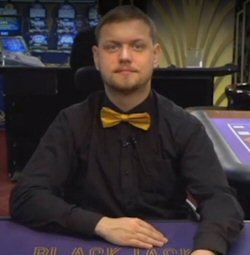 While they are all clean cut, many don't fit the profile of a movie-star body. Fortunately, there are a few good-lookers out there, and best of all, some of them have a real personality!
My top suggestion would be Evolution Gaming. This company hires dealers, first and foremost, based on dealership skill, and secondly on social skills. There are more male dealers here than most, so you shouldn't have trouble finding a few attractive ones. Microgaming is another good choice. There aren't as many male dealers, but those they employ can be quite debonair!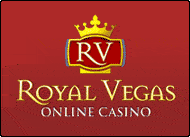 Royal Vegas, the #1 rated Casino for Canadians offers a thrilling and secure live gaming experience. Players are catered to by real dealers via webcams. That, and a world-class gaming experience, with innumerable card games and fun for everyone ! RV has been in the business for a very long time, a decade long. Thumbs up !