9 Aug
Novibet Sports Coming to Canada and US Markets
Novibet Sportsbook Secures Partnerships to Spread Across North America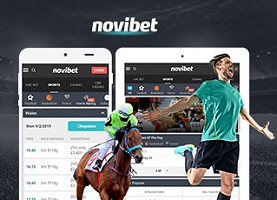 The North American iGaming market is growing at an incredible pace. Analysts attribute this largely to regulatory acceptance in a growing list of US states, and the recent launch of a competitive market in Ontario, Canada. These are two key areas where Novibet is looking to dig in its heels before the year is out.
Founded in 2010, Novibet is a European GameTech company with offices in Athens and Malta. It specializes in online sports betting and online casino gambling. For more than a decade, Novibet has been performing well in overseas markets. Now in 2022, the company is turning its focus to North America.
Novibet Sportsbook Coming to Canada, Mexico & US
According to a notice to investors on Monday, Novibet's expansion into North America is on right track. The company's application to operate in Ontario is in queue, awaiting approval from the Alcohol & Gaming Commission of Ontario (AGCO). Two major partnerships have Novibet poised to enter iGaming markets in Mexico and the US.
The Push into Ontario and Beyond
The missive confirms Novibet's intent to expand into Canada. The report states Novibet "recently commenced a license application" with the AGCO. "Contingent on regulatory approval, the Company is on track to launch" its Ontario online casino and online sports betting platform "in the fourth quarter of 2022".
The company is focusing on regulated markets only, which limits its Canadian access to Ontario only. However, analysts anticipate more Canadian provinces will soon follow in Ontario's footsteps. In just four months, the jurisdiction is displaying potential to become North America's most profitable iGaming market. Analysts are predicting an online casino and online sports betting (OSB) yield exceeding US $2 billion in 2026.
Entering New Jersey with Caesars Partnership
The headlining announcement from Novibet is its partnership with Caesars Entertainment. The multi-year agreement gives Novibet the opportunity to launch its online casino, poker and sports betting products in New Jersey.
A similar contract brought Novibet to the iGaming market of Pennsylvania earlier this year. However, the company is limited to online casino services in that jurisdiction. The Novibet sports betting and poker products are excluded.
Novibet Teams Up with Big Bola Casinos in Mexico
Last but most definitely not least, Novibet is preparing to debut in Mexico under the capable wing of Big Bola, operator of 20 land-based casinos across the country. Here, the company intends to launch its online casino platform on Novibet.mx.
According to the report, "Novibet will be responsible for all player acquisition, promotion and retention, and will share revenue generated by Novibet.mx with Big Bola."
Analysts predict Mexico's iGaming market will reach US $1 billion in 2026; half that of Ontario, but an impressive figure, nonetheless.
Commentary From the Top
Novibet CEO George Athanasopoulos is eager to witness the fruits of his company's extensive efforts in North America. He shared his enthusiasm over the Novibet sportsbook and casino expansion with the following statement:
"The expansion of our iCasino platform into new regulated markets, including in North America, is a major pillar of our growth strategy… Our focus on ensuring our technology platform, product offerings and customer engagement and retention initiatives are fully aligned and in synch with local player preferences has allowed us to enter new markets through our differentiated, engaging online gaming experience."
#1 Canadian-Friendly Casino

Jackpotcity.com  is our editorial pick for your gaming needs. Currently offering an entire suite of casino games, as well as a wide range of Canadian deposit options, JackPotCity truly offers world-class gaming.