1 Feb
New from Evolution Gaming, Lightning Baccarat
Evolution introduces Live Lightning Baccarat, the latest and greatest multiplier-striking live dealer casino game.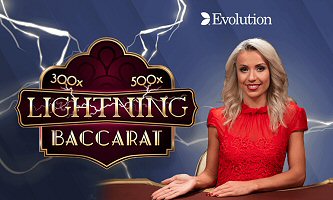 Evolution Gaming has made a lot of waves in the iGaming industry over the years, especially when it comes to innovative game mechanics. It began with their first outside-the-box launch of the Dream Catcher Lucky Wheel game in 2017. Many more unique games have come along since, including an award-winning series of Lightning branded games.
The first in the series was Lightning Roulette, released in February of 2018. The following year, we were introduced to Lightning Dice. Now in 2020, the third edition in the series is here. They call it Lightning Baccarat, and it's already got fans of this classic card gaming favorite flocking to the live dealer tables.
Evolution Launches Live Lightning Baccarat
Evolution Gaming announced the launch of its latest live dealer casino game in a press release on Thursday. According to its producers, Lightning Baccarat presents an "exciting new take on Baccarat"; one in which players can find themselves suddenly awarded with multiplied payouts of 2x, 3x, 4x, 5x and 8x the standard payout.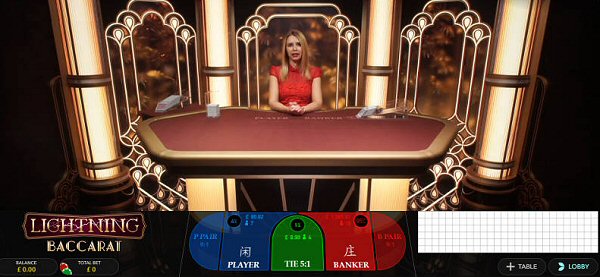 The company's range of Lightning table games all feature a lightning-strike multiplier. After the conclusion of each hand, lightning strikes, revealing a selection of special cards from the deck. If one of the stricken cards appears in the winning hand, all who bet on that hand will be paid a multiplier equal to the amount displayed on the card.
Lightning can strike anywhere from 1 to 5 cards per hand. If a player's win involves more than one lightning card, the multipliers will stack. For instance, let's say the Player hand wins with Jack of Spades and 9 of Hearts. The Lightning strike then puts a 3x multiplier on the Jack of Spades, and an 8x multiplier on the 9 of Hearts. Anyone with a bet on the Player hand at that moment will win a payout 24:1; far greater than the usual 1:1.
Since each hand can receive a maximum of 3 cards, the max multiplier on Banker and Player hands is x512. As we all know, betting on a Tie in baccarat is the last thing strategy would ever recommend. However, in Evolution Gaming's Lightning Baccarat, its payout potential can be multiplied as high as x262,144.
Part of This Year's ICE 2020 Line-Up
The new Live Lightning Baccarat game will be part of Evolution's line-up of presentations for ICE 2020 next month. Players won't have to wait to try it out, though. The game was launched into the live dealer casino market this week. It's now available for play on desktop, smartphone and tablet devices at hundreds of Evolution-powered online casinos, including Royal Vegas Canada.
Todd Haushalter, Chief Product Officer for Evolution Gaming, was particularly excited about their latest launch, extending one of their most beloved series. He described the original Lightning Roulette as "one of the biggest games in company history"; Lightning as an "immensely popular" second edition.
"Adding multipliers and our Lightning theme on top of the most traditional game yet, Baccarat, was a natural next step in our Lightning family," said Haushalter. "Baccarat players love volatility and we are giving them all they can handle with Lightning Baccarat!"
#1 Canadian-Friendly Casino

Jackpotcity.com  is our editorial pick for your gaming needs. Currently offering an entire suite of casino games, as well as a wide range of Canadian deposit options, JackPotCity truly offers world-class gaming.