7 Nov
Close-Up: The World's Top Crypto Currencies
Reviewing the most respected altcoin digital currency brands in 2023.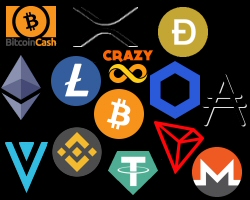 The crypto market has exploded over the last 10 years or so. Bitcoin was by no means an instant success, but as its price grew from a few cents, up to a few thousand dollars, more and more entrepreneurs began launching their own variations; altcoins (i.e. alternatives to Bitcoin), as they're now known. Most developers were just looking for a way to program money, hoping to get rich by creating value from thin air. A few of them were serious, with plans that were well thought out enough to achieve ultimate success. Those are the ones we'll be talking about today.
The Top Altcoin Digital Currency Brands
Whether you're looking to get into the crypto exchange business, or you're buying for personal reasons, like Bitcoin and altcoin gambling, the following list will give you a good idea of the world's top crypto currency brands. These are the cryptos with the best reputation for buying and selling, and the ones you're most likely to find available for betting at digital coin casinos. Click any item below for a brief synopsis and links to more thorough reviews.
BNB – Binance Coin

Binance Coin (BNB) was launched in the fall of 2017 as a precursor to the launch of the Binance Currency Exchange. The first BNB were issued as ERC-20 tokens, transacting on the Ethereum network. In April 2019, the ERC-20 tokens were swapped 1:1 for BEP2 BNB tokens, supporting the transition from the Ethereum network to the new proprietary Binance Chain. BNB has performed well since its inception, rising in value from just under US$0.11 to start, to over $28.18 to date.

Digitized Since: Sept 15, 2017
Value at Launch: $0.107251
Price on Jan 1, 2020: $13.69
Value on July 1, 2020: $15.82
Price on Nov 7, 2022: $337.26
BCH – Bitcoin Cash

Bitcoin Cash (BCH) is a fork, or spin-off, of the original Bitcoin crypto. It was created in 2017 as a means of expediting Bitcoin transactions by allowing larger block sizes. Larger blocks also translated to lower fees for customers. The result of the fork was a smaller, faster version of its ancestor, hailed as "a coin for everyday transactions". However, in the last three years, it has yet to pay off as a good investment opportunity. Overall, BCH's value has dropped about 12% from $294.60 to its current $263.05 as of writing.

Digitized Since: Aug 1, 2017
Value at Launch: $294.60
Price on Jan 1, 2020: $204.17
Value on July 1, 2020: $223.72
Price on Nov 7, 2022: $118.46
BTC – Bitcoin

Bitcoin is the original crypto currency we've grown to love, hate, and admire, all at the same time. It started as nothing but a digital file with open-source programming – a technical phrase that meant little to anyone without a degree in computer science and software engineering. What it became was a revolutionary decentralized digital currency that got more and more people interested in investing. It also gave the world new ways to buy, sell, and gamble over the internet, without having to report profits to any government agencies. It is best known for its high volatility in value, starting from a mere quarter of a penny, and rising to well over $19k at its peak.
Digitized Since: Jan 9, 2009
Value at Launch: $0.0025
Price on Jan 1, 2020: $6,955.49
Value on July 1, 2020: $9,236.32
Price on Nov 7, 2022: $20,747.54
DOGE – Dogecoin

Dogecoin was originally created as a joke, using a humorous and popular meme to poke fun at the fact that anyone could create an altcoin. Its creators never expected it to become one of the top-traded altcoins on the crypto market, but that's exactly what happened. There are more than 127 billion dogecoins in circulation, with no cap on the number that can be mined. For this reason, its value is far more stable than most cryptocurrencies, making it a popular option for iGamers seeking anonymity without the risk of grossly diminished value.

Digitized Since: Dec 6, 2013
Value at Launch: $0.002
Price on Jan 1, 2020: $0.002
Value on July 1, 2020: $0.0024
Price on Nov 7, 2022: $0.11610307
ETH – Ethereum

In 2013, Ethereum (ETH) creator Vitalik Buterin was a programmer specializing in decentralized applications. He co-founded Bitcoin Magazine, and openly argued that Bitcoin needed its own scripting language for application development. Bitcoin's creators weren't interested, so he developed one of his own. Ethereum is a decentralized, open-source crypto, and one of the most popular altcoins ever released. Since its inception in 2015, Ethereum has become the world's most actively used blockchain, and the second-largest crypto by market volume. Ethereum 2.0 (Eth2) is currently in the works, and is expected to increase the current throughput rate of fifteen transactions per second up to tens of thousands.
Digitized Since: July 30, 2013
Value at Launch: $2.83
Price on Jan 1, 2020: $129.63
Value on July 1, 2020: $231.29
Price on Nov 7, 2022: $1,581.39
LINK – Chainlink

Chainlink (LINK) is a blockchain technology operating on an oracle network that utilizes smart contracts to guarantee transactions. A smart contract does for crypto trading what an escrow account does for real estate markets. All valuables in a trade are secured in the smart contract, with all parties receiving their end of the bargain at the exact same time, once all obligations are met. LINK had its ups and downs over the years, but a number of partnerships with major players like Ethereum Classic and Binance saw the crypto rise in the ranks to fifth largest digital asset by market cap in August 2020, surpassing Bitcoin Cash.

Digitized Since: Sept 21, 2017
Value at Launch: $0.1698
Price on Jan 1, 2020: $1.80
Value on July 1, 2020: $4.70
Price on Nov 7, 2022: $8.48
LTC – Litecoin

Litecoin (LTC) was first released in late 2011 as a source code fork of Bitcoin Core. The primary differences between the two are LTC's lower block generation time (2-1/2 minutes), higher coin cap, and a scrypt-based proof-of-work, as opposed to BTC's SHA-256. LTC experienced similar fluctuations in the crypto market for the first few years of its existence, but has since steadily diverged from comparability with Bitcoin.

Digitized Since: Oct 13, 2011
Value at Launch: $4.30
Price on Jan 1, 2020: $41.61
Value on July 1, 2020: $41.75
Price on Nov 7, 2022: $69.00
TRX – Tron

In its first year, Tron (TRX) was plagued by accusations of plagiarism, both in its white paper and its open-source coding. In 2018, developers shifted gears, dumping the Ethereum-derived ERC-20 protocol in favor of a peer-to-peer file-sharing network. This move spearheaded Tron's ultimate success, rising through the ranks to become a top-10 crypto company. Still, Tron is widely considered to be a clone of ETH. Its long-term growth is questionable, however, due to a continuous strain of negative press, ranging anywhere from embarrassing to outright scandalous.

Digitized Since: November 2017
Value at Launch: $0.00238682
Price on Jan 1, 2020: $0.01319943
Value on July 1, 2020: $0.01687138
Price on Nov 7, 2022: $0.06226193
USDT – Tether

Tether was initially labeled a "stablecoin" because it was designed to maintain a static value equal to US$1.00; hence the abbreviation USDT, and insinuation that it's tethered to the value of one US dollar. Tether Limited claims that $1.00 is held in reserve for each USDT in circulation. However, there is no contractual obligation for Tether owners to receive $1.00 for each USDT sold. According to their lawyers, each Tether is actually backed by only $0.74. Nonetheless, USDT surpassed BTC in trade volume in 2019 to become the highest daily and monthly traded crypto on the market.
Digitized Since: February 2015
Value at Launch: $1.00
Price on Jan 1, 2020: $0.999508
Value on July 1, 2020: $1.00
Price on Nov 7, 2022: $1.00
XMR – Monero

Monero (XMR) is an open-source cryptocurrency best known for its fungibility; that being the ability for one commodity to be interchangeable with another commodity of the same nature. It operates on an obfuscated public ledger, maintaining the anonymity of users by masking the source, destination, and amount of each transaction from outside observers. This heightened level of secure anonymity has attracted a lot of black web consumers dealing in illegal goods and services, without attracting the suspicious eyes of law enforcement, and also makes it a perfect form of cryptocurrency for online gambling.

Digitized Since: Apr 18, 2014
Value at Launch: $2.47
Price on Jan 1, 2020: $45.78
Value on July 1, 2020: $64.57
Price on Nov 7, 2022: $155.72
XRP – Ripple

Ripple is a payment system, currency exchange and blockchain ledger that maintains its own native cryptocurrency, XRP. Similar to Bitcoin, this new altcoin was designed to give financial institutions a faster way to transfer money with far lower fees. By the end of 2017, XRP claimed the title of second largest crypto by market capital, but not for long. A May 2018 scandal unearthed an "alleged" scheme in which Ripple raised hundreds of millions of dollars by selling unregistered crypto, creating "billions of coins out of thin air" to profit from "essentially a never-ending initial coin offering". The value of XRP continues to rise, for now, despite the pending status of that class action lawsuit.
Digitized Since: Oct 7, 2011
Value at Launch: $0.00587384
Price on Jan 1, 2020: $0.192556
Value on July 1, 2020: $0.176740
Price on Nov 7, 2022: $0.47586861
XVG – Verge

Verge (XVG) doesn't have the shiniest reputation in the crypto market, not because of any wrongdoing on the creator's part, but because it was never intended to be used for honorable or virtuous purposes. Its white paper was released under the title "Blackpaper". It was originally launched as DogeCoinDark, then rebranded to Verge Currency in 2016. Then in 2018, Verge partnered up with an adult entertainment company. In April and May of that same year, XVG was the victim of 51% mining attacks. Its anonymity has come under fire as well, claiming to provide a fully transparent ledger, while using obfuscation and Tor to mask IP addresses that hide each user's geolocation data. Long story short, you can gamble online with Verge altcoins, but there are better, more reputable options out there.
Digitized Since: October 2014
Value at Launch: $0.00000701
Price on Jan 1, 2020: $0.00358048
Value on July 1, 2020: $0.00752486
Price on Nov 7, 2022: $.00324946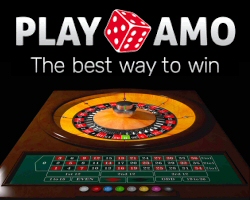 Playamo is a specialty casino tailored to players wishing to utilize bitcoins and play in a safe and anonymous manner. It caters to Canadians who use cryptocurrencies and also traditional cards like Visa/ Mastercard. Check the Playamo Canadian deposit options page ->here<- to see if your deposit modality of choice is accepted. Highly trusted, secure, and one of the select few Bitcoin enabled casinos that actually has a license, under Curacao.