20 Jan
MasterCard All-In for US iGaming Payments
MasterCard supports instant online gambling withdrawals in US.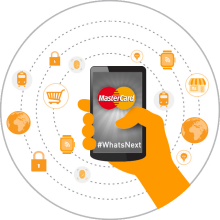 The world revolves around marketable goods and services. There are producers, and there are consumers. So long as they co-exist, the global economy will carry on, no matter how it evolves over time. In the last hundred years, commercial society went from door to door salesman, bringing the goods to the consumer, to department stores and mega-malls, attracting consumers into the world, then to online shopping, where everything under the sun can be purchased and received for the right price, and with the right payment method, without the consumer ever leaving their home.
The ability to pay and get paid in a digitized world is what makes today's commercial market so industriously successful. Online and mobile gambling operators have been using digital payment services for decades, and while credit card companies have traditionally shied away from that particular sector, the recent legalization and spreading regulation of legal online betting in the US is driving some card companies to develop better, faster, more secure options for US iGaming payments.
Instant Online Gambling Withdrawals from MasterCard
I find it somewhat ironic that MasterCard is now in full support of internet gaming and gambling. For so many years, MasterCard payments were among the most likely to be rejected – not just in the US, per say, but in countries like Canada, where online gambling was never illegal. Now that US states are acquiesce to iGaming, it's a whole new ball game. I suppose what's good for the American goose is good for the Canadian gander, eh?
Whatever it took to get us this far, the world's mobile bettors are sure to appreciate the result. According to a report this week on Pymnts.com, MasterCard's latest mission is to convince the iGaming industry to give players what they really want, "faster payouts for gaming and gambling."
Silvana Hernandez is the Senior Vice President of Digital Payments at MasterCard. She believes the digitization of every day life in 2020 will be the driving force behind the adoption of faster (dare we hope instant?) payout options.
"Consumers keep demanding a better, more convenient, seamless, secure user experience that makes their lives better. And this is happening across many verticals," said Hernandez. "You want faster P2Ps, you want faster insurance payouts, you want faster loan disbursements. It fits in that you want faster payouts for gaming and gambling."
MasterCard estimates the overall US iGaming market to be worth "about $120 billion". To better serve this market, the company has deployed MasterCard Send, a push payments platform that supports the four fastest-growing segments in the online and mobile gambling space; online lottery tickets, sports betting and bookmaking, skill games, and fantasy sports.
MasterCard All-In for Faster iGaming Payments
Instant deposits have always been the goal for online gambling operators. Fast withdrawals – not so much. For decades, they've used ID verification and KYC regulations (which are all good, don't get me wrong) to mask their real intent in waiting 24-48 hours to process a withdrawal – to encourage players to reverse their cashout and bet that money back into the system. But we're living in a different world now.
In the last year, more people have become accustomed to getting what they want, when they want it. That sentiment permeates the strongest in digital and financial services. It didn't go away with the turn of a calendar, either. If nothing else, 2020 reinforced every consumer's desire to expedite payments – not just outgoing, but incoming.
Why should we experience instant deposits at an online casino or sportsbook, but wait days, if not weeks, to receive our winnings? The lack of instant online gambling withdrawals "feels like a broken part of the process to the consumer," said Hernandez.
Mobile gamers are not going to stop playing because they withdrew their winnings. It's time payment companies and iGaming operators work together to give consumers the faster cashouts they've always wanted.