14 Feb
Novelties to Spruce up your Trick-Catching Games
Custom and novelty gift ideas for card gaming enthusiasts.
I grew up in a family you might refer to as being 'the south side of wealthy'. My parents passed on their frugality, as did their parents before them. Although times have changed, my mindset towards wasteful spending has not. As such, I've never been one to spend money on needless things. Having said that, and being a self-professed connoisseur of board and card games, there are a few items that, despite their categorical lack of necessity, even I would deem worthy of the splurge.
These are items I myself have purchased, desire to purchase in the future, or have at least seen in all their crafted glory. They are all custom novelties that you don't need, but if you play a lot of trump-based trick-catching games like 9-5-2, Bridge, Euchre, King Pedro, Spades, Two Hundred, etc., you may find them quite handy. They also make excellent gift ideas for card gaming enthusiasts.
Trump Dice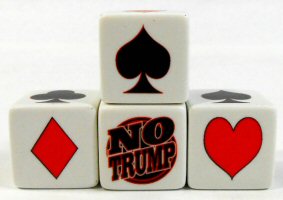 The Trump Dice is one of the items I actually own, and absolutely love, although mine is different from the one pictured. You can find lots of them available online, made of everything from hand-carved wood to welded metal. I don't suggest one with printed/painted images on a soft wood grain. They are cheaper, but will fade pretty quickly with use. I'll be looking to buy a new one soon enough because of this.
The trump dice come in handy with all trump-based card games. It depicts all four card suits, plus an NT or No Trump side. Depending on where you buy it, the sixth side will either be blank, a logo design, or you can have it personalized with your family name or whatever you like.
The intended purpose is to give players a reminder of what the trump is by turning the die to that suit, or the NT side. However, my family and I made a more unique game of it by sometimes playing 'Roll for Trump'. You can roll before bids are made to force a Trump, or you can roll after bids are made to really make things crazy!
Euchre Score Peg Board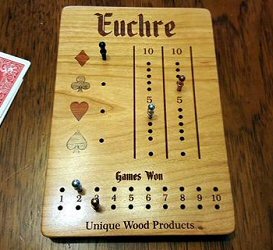 This is one I, unfortunately, do not yet possess. If any of my friends are reading this, hello – gift idea! The Euchre score peg board is a fantastic buy for hard-core Euchre players. I'm sure there are many more designs than this one available, but again, if any of my friends/family are reading this…. I want this one, please and thank you! 😉
Custom Cribbage Board
There are so, so many custom crafted cribbage games available. Some are mass marketed, others are individually hand crafted. The question is, what piques your interest, and how much are you willing to spend on it? Most often, these make better gift ideas for card gaming enthusiasts than whimsical purchases due to the expense. But they are extremely cool to own.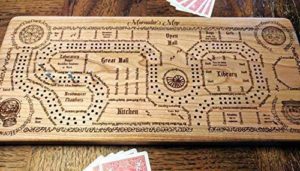 Take for example this Harry Potter cribbage board, inspired by the Marauder's Map. They also make themes for The Hobbit, Game of Thrones, Star Wars and many more, and of course personalized customizations are always available. If you happen to be handy with woodworking tools, check out the advanced section in our DIY Cribbage guide for some unique ideas.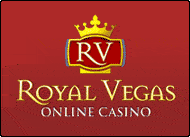 Royal Vegas Canada offers an interesting palette of specialty games for fun or real money. Everything from Texas Hold'em, dice games, Omaha, Keno, 7 card stud, to craps, blackjack and slots. Safe, and fun.