28 Aug
How to Play Spanish 21 Blackjack
Spanish 21 Rules and Payouts: Is blackjack better without tens?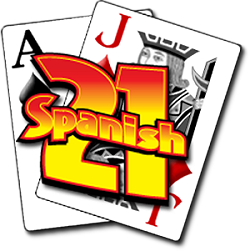 Spanish 21 is a patented variation of blackjack that is named for its utilization of a traditionally Spanish deck of cards, wherein no 10s exist. The removal of 10s leaves 48 cards per deck, and for obvious reasons, reduces the odds of being dealt a natural blackjack by 25%. And yet, it's still one of the most popular blackjack games in the world. How could this be?
What continues to draw so many players to Spanish 21 – those with a proper gambling education – is the host of player-friendly rules enforced to make up for the inevitable reduction in player blackjacks. We'll talk about these and other rules of the game below, followed by bonus payouts, strategic advice, and side bet considerations.
Spanish 21
I'm going to assume that you already have a basic of knowledge of how to play blackjack. Spanish 21 is essentially played like any other variation of the game. The object is the same as always – to achieve a higher point total than the dealer, without exceeding 21.
Players have access to all the usual decisions. You can stand or hit on any total up to 21, with anything higher being a Bust (automatic loss). you can Double Down on any two-card total, even after splitting, and are able to split any pairs. You can even re-split Aces! As I said, the rules can be quite player-friendly.
Like many of today's blackjack games, Spanish 21 uses a full 8-deck shoe. Each deck contains only 48 cards (not 52); 12 of each suit:
2-3-4-5-6-7-8-9-J-Q-K-A
The complete list of player and dealer hand rules include:
Decks: 8
Soft 17: Dealer Hits
Doubling: Yes, on any two cards
Splitting: Yes, up to 3x
Double after Split: Yes
Resplit Aces: Yes
Draw to Split Aces: Yes
Early Surrender: Yes
Double Down Rescue: Yes (Surrender after Doubling)
Dealer Checks for Blackjack: Yes
Tie for Blackjack: Player Wins
Player 21: Player always wins
Blackjack Pays: 3 to 2
Bonus Pay Table
Spanish 21 also offers a range of bonus payouts that, uniquely, do not require a side bet to become eligible for. Again, these are the perks for trading away all 10s from the deck. Note that bonuses are paid after a hand is completed, but are void if the player doubles or splits.
Bonus payouts are available for, and at a rate of (multiplier of bet):
| | |
| --- | --- |
| Player / Dealer Hand Requirements | Payout |
| Player has suited 777, Dealer has any 7 showing | 50 : 1 |
| Player has 6-7-8 or 7-7-7 in Spades | 3 : 1 |
| 7-card total of 21 | 3 : 1 |
| Player has 6-7-8 or 7-7-7 in same suit | 2 : 1 |
| 6-card total of 21 | 2 : 1 |
| Player has 6-7-8 or 7-7-7 mixed suits | 3 : 2 |
| 5-card total of 21 | 3 : 2 |
By these rules and pay tables, the game has a standard RTP of 99.58%, or a house edge of 0.42%.
Match the Dealer Side Bet
Most Spanish 21 games will offer the player an optional side bet known as Match the Dealer. The object of this wager is to match the dealer's face-up card with one or both of the player's cards. Matching just one card of a different suit will initiate the lowest payout of 5 to 1, whereas matching both player cards to the exact value and suit of the dealer's up card awards the highest payout of 24 to 1.
The conditions and pay table for the Match the Dealer Side Bet are as follows:
| | |
| --- | --- |
| Players Hand Requirements | Payout |
| One Match, mixed suits | 3 : 1 |
| Two Matches, mixed suits | 6 : 1 |
| One Match, suited | 12 : 1 |
| Two Matches, one suited | 15 : 1 |
| Two Matches, both suited | 24:1 |
Want to learn more about Spanish 21? Continue your education with the links below.
Best Blackjack for Canadians

Jackpotcity.com  is our editorial pick for your gaming needs. Currently offering an entire suite of casino games, as well as a wide range of Canadian deposit options, JackPotCity truly offers world-class gaming.