20 May
Rock N Rolla Casino Deposit Bonus 2021
New Four-Tier Deposit Bonus at Rock N Rolla Casino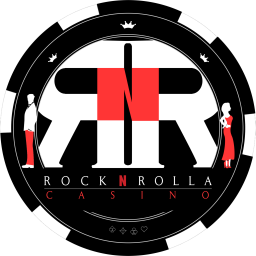 I've been touting the expert entertainment of Rock N Rolla Casino for quite some time now. It's one of my absolute favorite crypto gambling sites, offering everything from casino games to sports betting. Not just the standard variety, but live dealer tables and eSports betting, too. Rock N Rolla is also know for its exceptional promotional line-up, which they've obviously been updating since the turn of the calendar year.
The Rock N Rolla Casino deposit bonus underwent a big overhaul in 2021. Last year, players were offered a choice of collecting a big, one-time deposit bonus, or taking advantage of double rewards on the first two deposits. Now, the operator is upping the ante on its welcome package, delivering match bonuses on a new players first four deposits.
New Four-Tier Deposit Bonus at Rock N Rolla Casino
Under the updated bonus conditions, new players who register an account with the Rock N Rolla crypto casino are eligible to claim up to four deposit bonuses. The minimum deposit to claim any offer is uBTC 250, with a maximum bonus value of 5,000 uBTC. The first three offers also come with a few free spins to brighten your gaming experience.
Reference: 250 uBTC = 0.00025 BTC [Learn more about United Bitcoin]
To claim any bonus, you'll need to log into your Rock N Rolla Casino account and visit the Promotions page. Find the deposit bonus you wish to claim and press the bright orange button labeled "ACTIVATE". Be sure to read over the terms and conditions (there's a button for those, too). For your convenience, I've provided all the important details below.
1st Deposit Bonus – 100% up to uBTC 5,000 + 15 Free Spins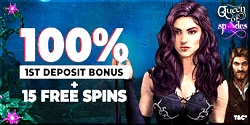 This bonus awards crypto depositors with a 100% match on the very first deposit, plus 50 free spins. Note that the free spins may only be used the Queen of Spades Slot. When depositing, click the 1STDEP.100 offer code. You'll need to put a minimum of 250 uBTC in your account to qualify. The amount deposited is matched, coin for coin, up to 5,000 uBTC.
Once claimed, users have 30 days to clear the wagering requirements (WR) and keep any winnings from the bonus. See the Wagering Requirements section below for more information.
2nd Deposit Bonus – 120% up to uBTC 5,000 + 25 Free Spins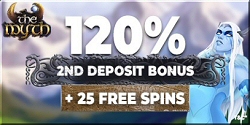 This next bonus boosts the matching power to 120% on a new player's second deposit. It also increases the number of free spins to 25, playable on the casino's sci-fi fantasy slot, The Myth. To claim this one, you'll need to click the 2NDDEP.120 offer code. Again, it'll require a minimum 250 uBTC deposit to qualify. The amount funded will be matched at 120% this time, capped at 5,000 uBTC. For example, depositing 1,000 uBTC will award an extra 1,200 uBTC, for a total of 2,200 uBTC to play with.
You'll have 30 days to clear the WR of this bonus from the day you claim it. See the Wagering Requirements section below for more information.
3rd Deposit Bonus – 80% up to uBTC 5,000 + 10 Free Spins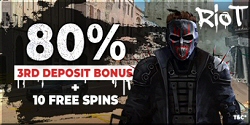 They say the third time's the charm, but I can't really agree this time. It's the smallest of the four deposit bonuses at Rock N Rolla. When claiming your third deposit bonus – click the offer code 3RDDEP.80 – the match is reduced to 80%, with just 10 free spins attached. You'll get to use those spins on the Dystopian themed Riot Slot. Again, the minimum qualifying deposit is 250 uBTC, with a max reward of 5,000 uBTC. At 80%, a minimum 250 uBTC deposit would award an extra 200, for a total of 450 in wagering power.
Once you claim the bonus, users have 30 days to clear the wagering requirements (WR) and keep any winnings from the bonus. See the Wagering Requirements section below for more information.
4th Deposit Bonus – 250% up to uBTC 5,000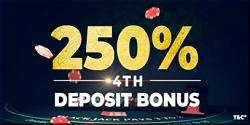 There's no such thing as a bad free bonus, but some are certainly better than others. This fourth and final new player deposit bonus at Rock N Rolla Casino absolutely takes the cake. It doesn't come with any free spins, like all those before it, but the matching power is hiked up to 250%. That means even a minimum deposit of 250 will be matched with a free 625, boosting your bankroll by 875 uBTC. To get the max 5,000 uBTC bonus, you'd only need to fund you account with 2,000 uBTC, giving you 7,000 combined.
If you haven't guessed already, you'll need to tap the offer code 4THDEP.250 before making your purchase to claim this bonus, and you'll have 30 days to complete the wagering requirements once you do. See the Wagering Requirements section below for more information.
Rock N Rolla Casino Wagering Requirements
The wagering requirements (WR) on all Rock N Rolla Casino bonuses are 35x the amount of the deposit + bonus combined. So if you've claimed the first bonus of 100% on a 500 uBTC deposit, the combined value is (500 + 500) 1,000 uBTC. You would need to place (1,000 x 35) 35,000 in wagers on qualifying games to complete WR.
WR may be completed on any of the casino's slot machines. Any other games may not count, or may not count as much, towards WR. The min/max bet range while completing WR is 25 to 250uBTC per wager. Bets outside this range could result in forfeiture of the bonus, so be aware of your limits as you go.
When any bonus is active, all winnings will be paid back to your Bonus Balance. After completing WR on the active bonus, that balance will be transferred into your My Funds balance. Any money in your My Funds balance is eligible for withdrawal, anytime. However, if you have funds in your Bonus balance, placing a withdrawal from My Funds may forfeit the Bonus balance. To avoid losing any value, you're better off completing WR on any active bonus before requesting a cash out.
Extra Promo – Cashback Tuesday
The fun isn't over once you've partaken in these four bonus offers. All existing members are eligible to enjoy Rock N Rolla Cashback Tuesdays. It happens every week, on Tuesday of course. To take advantage of it, you'll need to make a deposit on Tuesday, then wager at least 10% of that deposit the same day. You'll get a portion of any losses incurred, on any games played, paid back to you as a bonus.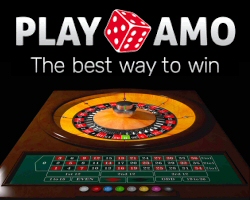 Playamo is a specialty casino tailored to players wishing to utilize bitcoins and play in a safe and anonymous manner. It caters to Canadians who use cryptocurrencies and also traditional cards like Visa/ Mastercard. Check the Playamo Canadian deposit options page ->here<- to see if your deposit modality of choice is accepted. Highly trusted, secure, and one of the select few Bitcoin enabled casinos that actually has a license, under Curacao.