8 Jun
Evolution's Live Dream Wheeler Comes to Ontario
OLG Presents Dream Wheeler Live Game Show from Evolution Gaming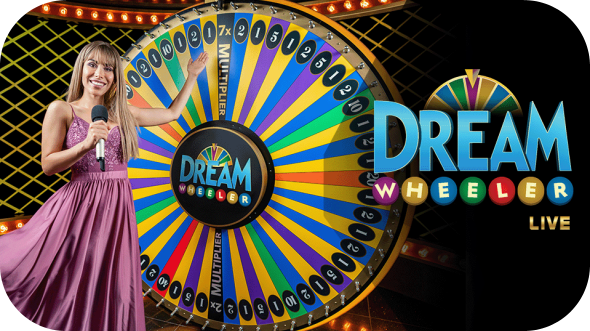 Any good business mind will tell you that if you're going to do something new – do it big! Getting the attention of the consumer is key to a successful launch. In Ontario, online casino gambling has been available for years, both through international websites and OLG's home-grown gambling portal. However, following years of targeted efforts, the province launched a competitive iGaming market in April, with the goal of encouraging Ontarians to play exclusively on locally-licensed brands.
The best way to convince the adult population that Ontario's iGaming partners are better than outside operators is to be honest. That means their own brands must really be better. And the only way to do that is to employ the best games, from the best software companies.
Enter Stage Right…
Dream Wheeler Live from Evolution Gaming
The Ontario Lottery and Gaming Corporation (OLG) is proud to announce the installment of its first live casino game show. Streaming direct from the Evolution Gaming production studio in Vancouver is Dream Wheeler. It's a revision of the live casino supplier's original award-winning Dream Catcher Live, built just for Canada's fun-loving audience.
In many ways, Dream Wheeler is akin to the big Money Wheel you would expect to find in any moderate-size casino. The game consists of one very large wheel, approximately 2 meters in height. The wheel contains a multitude of segments, with a numerical mark on each one. The wheel is spun, and the position on which it lands represents the winning number for that round of play.
Two prominent features set Dream Wheeler apart from traditional wheel games. First and foremost is the presence o a live host. Evolution Gaming takes great pride in employing enthusiastic hosts whose flair and charisma bring an extra element of excitement to each and every game. Second are the wheel's archetypal Multiplier positions. These are capable of boosting payouts by 2x, 7x, or in the case of consecutive hits, as much as 20,000x the bet.
How to Play Live Dream Watcher
To play the game, you must log in to your OLG.ca online casino account and navigate to the Live Casino section. Here, you'll find the Dream Wheeler game. Press on it and wait a moment for the game to load. When it does, you'll see the live stream of the Dream Wheeler game show in the top portion of the screen. At the bottom are all of your betting options.
The numbers at the bottom center are the same numbers that appear on the wheel. They include:
1 – 2 – 5 – 10 – 20 – 40
Two additional segments, found at opposite ends of the wheel, denote the 2x and 7x Multipliers. I'll explain these more in a moment.
To place a bet on any number, you'll select the size of the chip you want to bet ($1, $5, $10, $25, etc.), then tap on the number you want to bet on. You can tap it more than once to add additional chips to the bet. You can bet on as many numbers as you like. There's even a Bet On All button that will instantly place a one-chip bet on each of the eligible numbers.
If you make a mistake, you can press the Undo button to clear your bets, one at a time, in reverse order. Note that you have a limited amount of time to place your wager(s), as this is a live game show.
After a round of play, you can press the Repeat button to place the same wager as before. There's also a Double button to repeat the previous bet at 2x the size. A Total Bet indicator will always display the current size of your combined wagers.
The 2x and 7x Multiplier Positions
On opposite ends of the wheeler are two multiplier positions. One is labeled 2x, the other 7x. If the wheel lands on either of these positions, no bets are won or lost. Instead, every 3wager is multiplied by the corresponding number, and the game continues with another spin. Anyone who wins on the next spin will receive a payout worth the relative multiplier.
For example, if you wager $5 on 2, the standard payout for this would be $10 (at 2 to 1). If the wheel lands on the 7x multiplier, the payout for winning this bet on the next spin jumps to ($10 x 7) $70.
The multiplier positions are cumulative, up to a maximum of 20,000x. So if the wheel lands on x7, then x2, the payout jumps to x14. If it then lands on x7 again, it jumps to x98.
Note that the maximum payout per game is capped at $500,000, regardless of the bet size or multiplier that triggers the win.
Dream Wheeler Pay Table
The payout for each number on the wheel corresponds with that number. Thus, a bet on 1 pays 1 to 1. A bet on 2 pays 2 to 1. A bet on 5 pays 5 to 1, and so on.
Any bet that pays "to 1" means the player receives their original bet back, plus the amount indicated as the payout. So a $1 wager that wins 5 to 1 would receive a total of $6 back; the original $1 bet, plus $5 in winnings.
For clarification, the pay table is as follows.
| | | | |
| --- | --- | --- | --- |
| Number | Appearances | Pays | House Edge |
| 1 | 23 | 1:1 | 4.76% |
| 2 | 15 | 2:1 | 4.69% |
| 5 | 7 | 5:1 | 9.58% |
| 10 | 4 | 10:1 | 4.35% |
| 20 | 2 | 20:1 | 8.20% |
| 40 | 1 | 40:1 | 10.12% |
| Multiplier | Appearances | Next Win Pays | Odds |
| x2 | 1 | 2x Payout | 1.92% |
| x7 | 1 | 7x Payout | 1.92% |
OLG Partnership with Evolution Gaming
Ontario's iGaming regulator teamed up with Evolution Gaming back in October of 2021. The announcement came with great fanfare from both sides of the fence.
"We want to provide the best live dealer experience available, and we are confident that our players will love the quality and the choice of these games, playing at tables with other Canadian players and game presenters."
-Dave Pridemore, OLG Chief Officer of Digital and Strategy
"We are excited to provide OLG our growing library of live dealer games and sharing the invaluable insight we have gained in serving the other Canadian provinces."
-Jeff Millar, Commercial Director of Evolution North America
This is not Evolution's first Canadian rodeo. OLG is the fourth province to partner with the world's leading live casino supplier.
First was the British Columbia Lottery Corp (BCLC). Their 2017 partnership was the catalyst behind Evolution's decision to build a live studio in Vancouver. Opening in 2018, BC was the first to offer live dealer games from and to players in Canada. Next on board was Loto-Quebec, sealing its deal in 2019. Then the Alberta Gaming, Liquor, and Cannabis Corp (AGLC) began installing Evolution's live games on PlayAlberta in March 2021.
"This latest signing further strengthens our position in Canada," noted Millar last October. "From the start, our intention was to create a world-leading Live Casino studio with the capability and capacity to service all the Canadian lotteries."
List of Live Dealer Games on OLG
Dream Wheeler is the first and, at present, only "game show" style game on OLG. However, it's not the only live dealer casino game on the menu. Below is a complete list of all Evolution Gaming installments.
Blackjack Live
Infinite Blackjack Live
Roulette Live
Auto Roulette Live
Baccarat Live
Ultimate Texas Hold'em Live
Dream Wheeler Live
#1 Canadian-Friendly Casino

Jackpotcity.com  is our editorial pick for your gaming needs. Currently offering an entire suite of casino games, as well as a wide range of Canadian deposit options, JackPotCity truly offers world-class gaming.