6 Jun
Atlantic Canada Casinos get Thumbs Up from RG Check
ALC Online Gambling Platform Receives RG Check Accreditation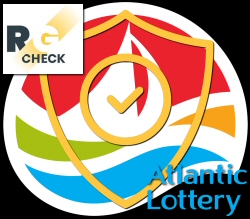 Responsibility in gambling – it's an absolute must! It's not just players who are encouraged to gamble responsibly, either. Operators of land-based casinos, as well as online gaming websites, are expected to uphold responsible practices. Perhaps more important is the responsibility of the government agencies that oversee land-based and online casinos. These are the regulatory bodies enforcing responsibility among local licensees.
One of Canada's most prominent gambling regulators – the Atlantic Lottery Corporation (ALC) – is being recognized once more for its degree of responsibility. The ALC announced the reception of RG Check accreditation for two of its operations; the Red Shores Casino in Charlottetown, PEI, and its online gaming portal at ALC.ca.
RG Check for ALC Online Gambling Site and Casino
RG Check accreditation isn't just another seal to slap on a website, or emboss in a picture frame. It is among the most reputable and meaningful certifications in the gambling industry. Not just here in Canada either, but all across the globe. Its comprehensive nature points to utmost measures in security and player protection.
The issuers of RG Check call it, "the most comprehensive responsible gambling accreditation program in the world." It is the brainchild of the Responsible Gambling Council, an independent non-profit organization whose sole purpose is to advance gambling safeguards that support the well-being of people and communities.
RG Check isn't a certificate operators receive out of the blue. It is something every gambling property and website must first apply for, then strive to attain. When an operator applies, the RGC provides a "complete roadmap to implementing Responsible Gambling standards". It is up to the operator to follow that map, and the RGC to determine whether the operator has successfully done so.
It's no simple process. Operators must exemplify 48 criteria across nine comprehensive standards. RGC measures the effectiveness of responsible gambling practices by the number of checkmarks in each of these columns.
The road doesn't end with the reception of RG Check accreditation. It's a temporary certification that expires after three years. At that point, another check takes place to decide if the operator is still worthy of certification.
Atlantic Canada Casinos Make the Grade, Again
According to an announcement late last week, two ALC operations are worthy of RG Check renewal. First is the land-based property of Red Shores Racetrack & Casinos at Charlottetown Driving Park in Prince Edward Island. Second is the iGaming portal of ALC.ca, which hosts a bevy of online gambling verticals for residents of New Brunswick. They include online lotto, casino, sports, bingo, and instant win games.
"Atlantic Lottery is and will always be highly committed to continuously improving and evolving our program and practices. It took a great deal of hard work and dedication to get our program where it is today, and we have no intention of slowing down any time soon."
–Patrick Daigle, President and CEO of Atlantic Lottery Corp
"This omni-channel RG Check accreditation represents Atlantic Lottery's positive contribution to creating a culture of responsible gambling and sustainable play. This is a clear demonstration that Atlantic Lottery prioritizes responsible gambling and ensures transparency and player protections are at the core of its operations. RGC is proud to provide continuous support to Atlantic Lottery's harm minimization efforts."
–Shelley White, CEO of the Responsible Gambling Council
Red Shores Charlottetown and the ALC online gambling portal now boast RG Check certification good through January 2025. You can check on the current status of any RG Check-accredited operator here.
#1 Canadian-Friendly Casino

Jackpotcity.com  is our editorial pick for your gaming needs. Currently offering an entire suite of casino games, as well as a wide range of Canadian deposit options, JackPotCity truly offers world-class gaming.