21 Apr
How to use Interac to Gamble Online in Canada in 2023
Interac Casinos Canada – Fast, Safe, Reliable Online Gambling Payments
For Canadians, Interac is among the most popular methods of deposit at online casinos and other gambling sites. This Canadian-only method has been around for a few decades already. But it wasn't until about 10 years ago that it really began to take hold in the iGaming community.
In this guide, we'll look at the best Interac casinos and other betting sites, and how this payment method is helping enhance the most critical aspect of the iGaming experience – payment security.
What is Interac?
Interac is a Canadian nonprofit interbank network. It was formed in 1984 as a cooperative venture between 5 major banks: Scotiabank, TD, CIBC, RBC, and Desjardins. Today, it serves as the quintessential debit card provider in Canada. However, as a provider of digital finance technology, Interac rarely, if ever, hands out debit cards. Most of its operations take place online or over a virtual network. That is to say, Interac works in the background; thus, most of its users never even realize they're using it.
An Interac debit card is just like any other debit card, except that it typically bears the Interac logo. Paying with an Interac debit card couldn't be easier. Like any other debit card, you can swipe it at checkout and, if necessary, enter your PIN to complete the purchase.

If the card features the Interac logo, that means it is Interac Flash enabled. With this type of card, you can simply hold it over a contactless card reader and wait for an audible "beep!". The amount of the purchase is deducted instantly from your chequing account, and sent to the merchant.
Fun Fact: In 2001, Interac became more popular than cash as a method of payment. It has also surpassed all other payment methods in Canada in the years since.
Interac Casinos Canada – Who's Eligible?
Interac is exclusive to participating Canadian bank accounts. Anyone with access to a participating bank can use the Interac instant transfer system to make payments. This relates to most banks and credit unions in Canada; more than 80 member organizations, making up more than 90% of the nation's financial institutions – not to mention tens of thousands of ABMs.
Long story short, if you have a Canadian bank account and you have access to an online banking setup, chances are very high that you can use Interac. Here are just a few of the major banks in Canada that support Interac gambling payments. Click on any one of them for a full review.
If you're among the slim minority who don't have access to Interac, maybe it's time you consider changing banks. There are many benefits to using Interac. And with so many available banks and so many compatible services, it's worth the effort. It's also worth noting that Interac is accepted at Canada's most reputable online casinos, on top of about half a million merchants across the country; from small shops to major chains, and everything in between.
How to Use Interac Casinos
Interac is safe, it's fast, and it's incredibly easy to use. At launch, it was hailed as a revolutionary way to pay, and through progressive advancements in technology, and maintained that reputation ever since. Of course, there are many more "revolutionary" payment methods in competition these days. But having become so ingrained in our culture, combined with the fact that it is the preferred payment method of most of the country's merchants, it's no surprise Interac is so far ahead of any competitors.
If you have a Canadian bank or credit union account that supports online banking, and is a partner of the Interac network, you are already able to use this payment method. You won't need to register any special account, or link your chequing info to it. That happens automatically, courtesy of your financial institution. All you have to do is start using it.
To make an Interac casino deposit, simply visit the website's cashier and choose Interac as your payment method. Enter the amount you want to deposit, and press the appropriate button to start the payment. You will see a list of banks. Choose your bank's name from the list. Next, you'll be redirected to your own bank's website to log into your online banking account, just as you normally would. From here, you'll be asked to confirm the details of the deposit.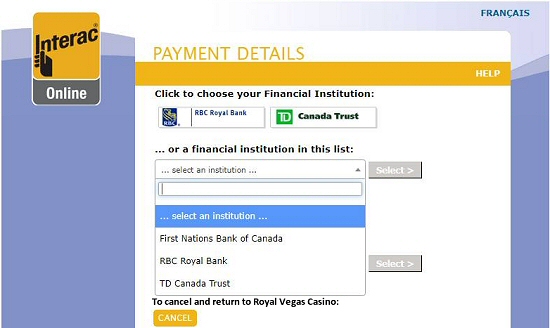 Tip:
If you're not sure if your financial institution works with Interac or not, see the complete list of Interac Partner Banks (a.k.a. Acquirers). For your convenience, this link opens in a new window.
Does it Cost Anything to Use Interac?
You should not be charged a fee to make an Interac casino deposit. The only fee Interac charges is a negligible processing fee to the receiver. It's so inexpensive, casinos and merchant websites rarely pass this cost on to the customer.
The same is may not true of Interac withdrawals, however. since you are the receiver in this situation, you may be responsible for the cost of this fee. Some Canadian banks will waive Interac transfer fees, or waive a certain number of Interac transactions per month, depending on the type of chequing account you have.
The Best Interac Casinos in Canada
Although Interac is very popular in Canada, the fact that it is not available to banking customers outside of this country means it's less common for online casinos to accept it. If you stick with an online casino that is based in and operates in Canada, then you're sure to find it on their menu. But there are far more international online casinos accepting Canadian players from countries like Europe.
The best option is to stick with Royal Vegas Casino. It is based in Malta and regulated by the Malta Gaming Authority, recognized as one of the most responsible iGaming regulators in the world. However, since the very beginning, Royal Vegas has opened its doors to gamblers around the world and has proved particularly popular in Canada and Australia.
Royal Vegas has been one of Canada's most popular international casinos for the last few years. No doubt, its compatibility with Interac plays a major role in this. It's not just about convenience though. There are plenty of other noteworthy benefits to using this casino.
Why We Like Royal Vegas Casino
Reputation: This is one of the oldest Canadian-facing casinos still in existence today. It's been around since 2000, maintaining a stellar reputation for customer satisfaction for more than two decades.
Selection: There are over 700 unique titles on the Royal Vegas games menu. They include slot machines, video poker, tables, specialties, and some of the hottest live dealer games on the market.
Appreciation: To kick off your enjoyment of all this entertainment, the casino promotes a generous sign-up bonus for all new members. The bonus is paid out over the first four deposits, matching 100% up to $300 on each; a total of up to $1,200 in free bonus credits to play with.
Using Interac in Land-Based Casinos
Don't forget, you can also use Interac offline, which makes it a great option for gambling in land-based casinos. There are many of these available throughout Canada, and the majority of them readily accept Interac.
Such is the case with the River Rock Casino Resort in BC, as well as the Caesars Windsor in Ontario. These are two of the biggest and most well-known casinos that accept Interac, but there are many more. It's a statistical fact that gamblers have more luck with smaller resorts, gaming centres, race tracks, and card rooms. These all accept debit card payments from Canadian gamblers, which means that, by default, they all accept Interac.
Whatever you do, and however you prefer to gamble, Interac truly is a great option. It may not provide all the bells and whistles of today's web wallets, or the fee-free guarantee of e-Checks. But if it's secure simplicity you seek, nothing beats Canada's very own Interac payment method.
#1 Canadian-Friendly Casino

Jackpotcity.com  is our editorial pick for your gaming needs. Currently offering an entire suite of casino games, as well as a wide range of Canadian deposit options, JackPotCity truly offers world-class gaming.
About the Author
Adalene Lucas: is our jack of all trades here at DBC. She is a skilled coder, gambler, writer and webmaster. She lives in Manitoba where she enjoys the lush landscapes and camping near Tulabi Falls. Nature gives her inspiration to write. When she's not immersed in nature, her favorite words are "game theory". She lives with her husband and their two Labradors, Kophy and Whisper.