9 Mar
Stakers Online Sportsbook Thumbs Nose at UKGC
Will snide remarks against regulators ensure Stakers Sportsbook never returns to the UK market?
When a subjacent is chastised by its superior, the typical response is one of capitulation and acquiescence. An admonished child hangs its head apologetically. An employee ensures the boss that their work will improve. But sometimes – on rare head-turning, brow-raising occasions – the subordinate thumbs its nose with rebellious candor. Such was the case this week when Stakers published the following pop-up message, visible only to UK-based visitors of the website.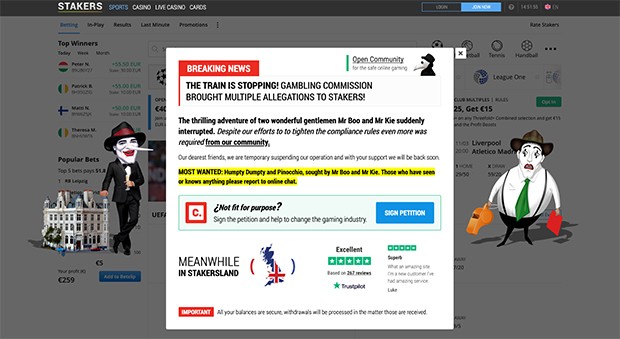 Snide Remarks From Stakers Sportsbook
That pop-up window is much more than a humorous poke at the UK Gambling Commission (UKGC). It is the operator's sarcastic disregard for the regulator's admonishment of the online sportsbook. The petition that it links to is akin to a sarcastic threat that Stakers means to pull the rug out from under the UKGC, just as the Commission did to Stakers last week.
The "breaking news" in question is real. "The train is stopping!" refers to the UKGC's mandate that Stakers cease operation in the United Kingdom, restricting any contact with UK players to quick withdrawals of their financial balances. "Gambling Commission brought multiple allegations to Stakers," is a direct finger pointing to the UKGC's declaration that it is currently investigating "a number of compliance issues" within the online bookmaker's operations.
Stakers Ltd License Suspension
The UKGC announced the temporary and immediate suspension of Stakers Ltd's license on Thursday. As always, the regulator's investigation is to be taken very seriously. The UKGC is constantly investigating allegations against remote gambling licensees, but only in severe cases will an operator's license be suspended while the investigation ensues. This points to a mounting pile of suspect evidence, and it's worth noting that such investigations never come up empty.
Suffice it to say, Stakers is in hot water, and if they think thumbing their noses at the UKGC is going to help matters, they are severely mistaken. Yet, that is exactly what they're doing – making a mockery of the system that is in place to protect their very own customers. And they're not even doing that with any degree of respectability.
Acting a Fool Dissolves Respect for Stakers
If you're going to rebel against the system, you should at least do it with some sense of poise and preparation. Stakers lifted the proverbial middle finger with such haste that the message came with multiple grammatical and typographical errors.
Not only is the "breaking news" headline banner riddled with mistakes, so is the petition Stakers is hoping its UK members will click and virtually sign. This could explain why, after five days, only 50 people have added their names to the petition. That and – as anyone who bothers to read it will soon realize – the petition isn't to get Stakers' UK license restored. Its intent is to get the UKGC disbanded.
The petition is titled "Not Fit For Purpose?" This element of the ongoing discourse relates to a report in which the All Party Parliamentary Group for Gambling Related Harm said in February, "the Gambling Commission is not fit for purpose", and is "not up to the job of regulating the industry" under current legislation.
Having watched the online gambling industry evolve for the last 20+ years, I don't believe any jurisdiction is fully prepared to regulate the activity without error. Technology is evolving at such a rapid pace, regulators can't possibly keep up. Erring on the side of caution is the best they can do to protect consumers, enforce social responsibility and maintain a safe, fair industry for all involved. If Stakers Sportsbook is being singled out as a bad seed, I have to believe there's good reason for it. Once the UKGC's investigation is complete, we'll learn more.
#1 Canadian-Friendly Casino

Jackpotcity.com  is our editorial pick for your gaming needs. Currently offering an entire suite of casino games, as well as a wide range of Canadian deposit options, JackPotCity truly offers world-class gaming.