26 Jun
CGA Report Expounds Canadian Casinos as a Win-Win
CGA researchers say casinos in Canada good for the goose and gander.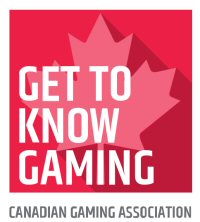 Let's face it, everyone has their own opinion about the responsibility and virtue of casinos. Some people see them as just another business offering a form of adult entertainment. Others would call them the bane of society. The Canadian Gaming Association (CGA) calls them part of a "large, mature industry that…generates significant benefits" for Canada's economy.
That assessment was part of the the introductory statement in a key findings report that details the results of a research report titled, "The National Economic Benefits of the Canadian Gaming Industry". Admittedly, it is the CGA's purpose to advocate for positivity in and around the gaming industry, but it's hard to argue with these latest findings.
Casinos in Canada Good for the Goose and Gander
The CGA report highlights the multitude of ways in which our nation's gaming industry is a productive and economically powerful driver for the greater good – not just for the business owners, or the provincial tax coffers, but for all Canadians. It creates multifarious job opportunities, provides funding for government services, charities and local communities, and represents the largest amount of non-tax revenue in the country.
Revenue Generation and Distribution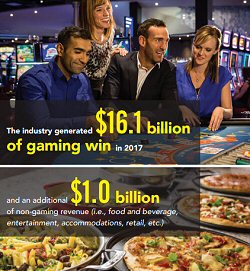 The report, released last week, states that in 2017, Canadian casinos and that gaming establishments generated a total of $16.1 billion in gaming revenue, and an additional $1 billion in non-gaming revenue, which includes hotels, restaurants, entertainment, retail, etc; a total of $17.1 billion.
Of that, $9.2 billion was funneled through the nation's governments as non-tax revenue. That money pays for things like hospitals, school campuses, community centres and events, youth sports programs, and other worthy projects, and are also 100% responsible for the funding of problem gambling research, treatment and prevention programs all across the nation.
Employment and Income
Canada's gaming industry supports the livelihood of 182,500 employees and their families, distributing $11.9 billion in labour income. Employment opportunities span all facets of the gaming and hospitality industry, from cashiers, dealers, slot attendants and pit bosses, to security, guest services, wait staff, maintenance and more, paying an average annual salary of nearly $65,000 to full time employees.

Boon for Local Businesses
Like the rest of us, Canadian casinos have to go shopping to support the goods and services they offer. Restaurants don't make their own napkins, if you get my drift. The gaming industry spent a staggering $14.6 billion on goods and services in 2017 – everything from carpet cleaners and toiletries, to tables, playing cards and equipment upgrades, furniture and fixture replacement, and landscaping. That money goes directly to the local businesses that provide these products and services.
Siphoning More Money Into the Economy
One point the CGA failed to expound upon, likely due to lack of measurable statistics, is also one of the greatest aspects of gaming, particularly true of the largest casinos in Canada. They have the naturally characteristic ability to draw tourists from outside the country. When foreign visitors spend money here in Canada, it injects new revenue into the economy, helping the nation to grow greater and more productive as a whole.
#1 Canadian-Friendly Casino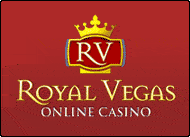 RoyalVegas.ca is our editorial pick for your specific gaming needs in 2022. Currently offering an entire suite of live dealer games, as well as a wide range of Canadian deposit options, RV truly offers a world-class gaming experience.
(Remember to Gamble Responsibly)