6 May
Dr Fortuno Slot and Blackjack from Yggdrasil Ringmasters
Yggdrasil unveils a sinister duo of matching themes with Dr Fortuno Blackjack & Video Slot.

Sequels and prequels are nothing new in entertainment marketing. When one title does extremely well, its producers look for ways to mimic that success with a similar release. Yggdrasil is taking that concept outside the box. So confident are they in their Dr. Fortuno character and backstory, they're releasing two brand new themed games at once.
The Dr Fortuno Slot & blackjack games went live last weekend at Yggdrasil casinos. The doctor is described as a sinister scientist and ringmaster of an old world freak show. Slots fans can partake in the madman's illusory video slot, spinning the Wheel of Fortuno for big prizes, while card gamers will love the latest addition to Yggdrasil's realistic, multi-player blackjack, dealt directly from the doctor's dim-lit carnival tent.
Dr Fortuno Blackjack w/ Bonus Bet
If classic blackjack is your game, this 3D table is far more interesting than the typical RNG-style blackjack games at most online casinos. It's a perfect meld of live, multi-player blackjack and electronic RNG gaming, built on the same premise as the developer's immensely popular Sonya Blackjack.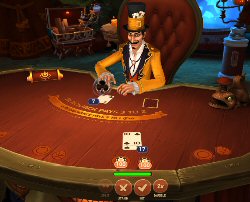 Dr Fortuno is the dealer, pounding out the cardboard from an ominously decorated, candle-lit backroom. His characteristic gestures are superbly programmed, so much so that you might not trust a game dealt by his baleful hand. But, alas, it's Yggdrasil, so we know the games are fair. That music though… gotta love it!
This is a game for up to 5 real, live players per table. There's no limit to the number of players that can participate. Once a table is full, a new table always opens up to accommodate more. All the usual rules of classic blackjack are in place, right down to the 3:2 pay for a natural.
What makes this game unique is its bonus bet. Players have the option of placing this extra wager (range $1-$500) on the dealer's odds of being dealt a flush in his first two cards (two matching suits). If we do not factor in any other cards on the table, the chance of this happening is 23.53% per hand.
But Dr Fortuno receiving a flush isn't all it takes to win. It just grants a chance to win the side bet. At this point, a series of bubbles appear on the screen, each containing a result – either an X (no win), a multiplier (5x-500x the bet), or the word Jackpot (the current progressive Jackpot prize). The bubbles float and pop at random until 5 remain. These then spin around and eventually land, one bubble per seat at the table. The result in the bubble on your seat is your prize – or nothing at all, if it's an X.
Dr Fortuno Slot Machine & Features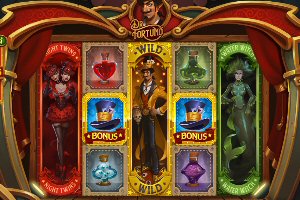 The ringmaster's freakish ways come to life in his 5 reel, 20 line online slot machine, where oddly shaped jars and their grotesque contents include everything from hearts and brains, to eyeballs and squid-like creatures. These are the low-paying symbols, spinning alongside the show's biggest stars – the Night Twins, Fire Head and Water Witch – representing the high-paying variety of stacked symbols. The Dr is also a reel-tall symbol and the game's Wild. His top hat is the Bonus scatter.
3+ scatter award 10 free spins with 1, 2 or 3 added features or landing 3, 4 or 5 hats. Feature options include No Lows, 2x Multiplier, More Wilds, +5 or +10 Extra Free Spins, High Paying Symbols Wild, and/or Pay Both Ways.
Winning any amount with a Wild symbol triggers the Wheel of Fortuno. The amount won on the spin appears in the right corner, and number of spins in the left. The wheel is filled with various prize options, including coin amounts, multipliers, and extra wheel spins. On the first spin, a Jackpot Chance position is available. If the wheel lands here, it opens the Jackpot prize position. Land the wheel here and the progressive jackpot is released. Note that this jackpot is shared with the Dr Fortuno Blackjack game.
#1 Canadian-Friendly Casino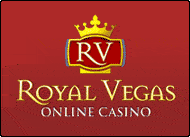 RoyalVegas.ca is our editorial pick for your specific gaming needs in 2022. Currently offering an entire suite of live dealer games, as well as a wide range of Canadian deposit options, RV truly offers a world-class gaming experience.