14 Mar
Use Your Brains to Win Zombie Hoard Slot
The new Zombie Hoard Online Slot – now that's using your brains!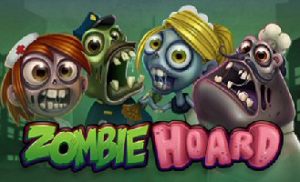 There are some forms of gambling where being supremely intelligent, or at least highly versed in strategies, will help you win more. Such cannot be said of online slot machines. There's no skill necessary. You don't need to be smart to press a button and spin the reels. But the latest release on Microgaming's Quickfire platform will definitely favor those with a lot of brains!
I'm referring to the latest release of Zombie Hoard Slot. This new online slot machine is the creation of Microgaming's exclusive digital gaming partners at Slingshot Studios. Those who follow Microgaming slots may recognize Slingshot as the same company responsible for the fan-favorite Cash of Kingdoms Slot.
The New Zombie Hoard Online Slot
For nearly a decade, the zombie theme has been hauntingly popular all around the world. From hit TV series like The Walking Dead, to Hollywood motion pictures like Warm Bodies, World War Z, and Zombieland, undead creatures continue to capture our imaginations; if not our hearts. But this reel-spinning version doesn't take the ghoulishly grotesque route. Instead, they're keeping the theme light and humorous, with a fun, cartoon-like feel.
Zombie Hoard features a cast of questionably cute flesh-eating characters; a nurse, a police officer, a maid and a chef. On the low end of the payout totem pole are card values 10-A. The Zombie Hoard logo is wild. The scatter symbol is a fresh brain, with just a small nibble taken out for effect.
Those sponges of cranial knowledge are the key to amassing big wins in Zombie Hoard. There are two ways to harvest free games with brains…
Free Games for Brain-iacs!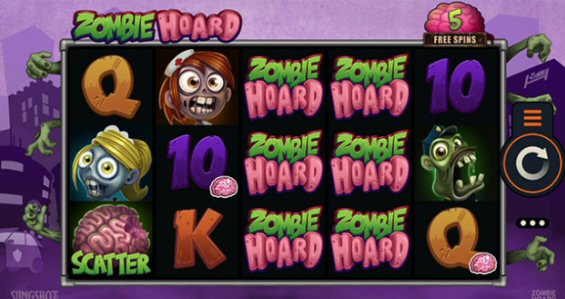 Normally it's high-paying symbols we want to see most on a slot machine, but not necessarily this one. In the base game, any one of those low-paying symbols can randomly spin into view with a small brain on it. These extra brains are collected in the larger brain labeled Free Spins, located in the top right corner. Once the number of brains in the collection reaches or exceeds 30, the player receives that many free spins.
Landing 3+ Brain Scatters will also trigger free spins. The amount of free games a player receives will match the number of brains in the collection at the time of triggering. Up to 5 mini-brains can appear on the reel's symbols per spin for a maximum of 34 free games at once.
What makes free spins so deliciously lucrative? Well, they're free, of course! But they also pay out all wins with a 2x multiplier. And it doesn't hurt that Wilds appear double-stacked on reels 3 and 4 during the free games. It's also worth noting that, because player's can change their bet size during the brain collection process, all free games play out at the average bet size between all brain-harvesting spins.
Zombie Hoard Slot – The Bottom Line
As fun and whimsical as this game is, not everything about the new Zombie Hoard Online Slot is positive. I appreciate the fact that it has a medium variance, balancing the win-rate and win-size. However, the 95.29% RTP is a bit lower than I'd like. Unless I'm shooting for a progressive jackpot, I generally stick to 96% and above; the higher the better.
#1 Canadian-Friendly Casino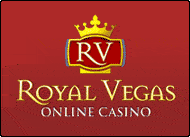 RoyalVegas.ca is our editorial pick for your specific gaming needs in 2022. Currently offering an entire suite of live dealer games, as well as a wide range of Canadian deposit options, RV truly offers a world-class gaming experience.