28 Feb
Pirates Plenty The Sunken Treasure Slot by Red Tiger
Pirates Plenty Slot making big waves at Red Tiger online casinos.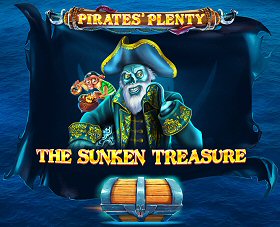 Last November, award-winning digital gambling games developer Red Tiger quietly raised the anchor on a new slot machine. They call it Pirates Plenty: The Sunken Treasure Slot. It didn't raise any flags or make the headlines; mostly because there are more than enough pirate-theme games on the market already. Why celebrate another? That is, until players gave it a chance.
As it turns out, Red Tiger's Pirates Plenty is teeming with features more fun than a barrel of wild monkeys. And for those with a enough patience and bankroll longevity to wait it out, Pirates Plenty can become much more lucrative over time. See our review below to learn why, or play it now at your favorite Red Tiger online casinos.
Pirates Plenty Slot Review
There's a lot to cover here, so I'll keep this as brief as possible. It's got a typical pirate-symbol theme with an undead captain as the main character. The story unfurls on 5×3 reels with 20 paylines as the crew sets sail in search of treasure. Now on to the features…
Monkey Wild
The captain's monkey is a special wild who can appear in the base game. He will collect all low-paying symbols (coins) from the reels. Only high-paying symbols will cascade down into their place for a high chance of a big payout.
Ocean Spins & The Sunken Treasure
The Ocean Spins symbols are scatters that (what else?) trigger free spins. You'll need 3 or more to unlock the feature. When the spins begin, three chests appear at the top of the screen. These are The Sunken Treasure you seek. The ghostly captain can appear on the reels on any spin, offering up a key. It takes 3 keys to unlock each chest, and each chest offers up prizes. For example, the first chest awards +5 spins, and turns one of the low-paying coin symbols into wilds.
Treasure Reel
This is the feature you really want to activate. To the right of the fifth reel is a treasure map, aka the Treasure Reel. Your ship appears at the bottom of the map, with an X towards the top. As you play, every map symbol that appears on the reels moves you a bit further on the treasure map. Once you reach the X, the Treasure Reel unlocks, and remains open for all future spins at the same stake.
Wild Ships w/ Multipliers
The major benefit of unlocking the Treasure Reel feature isn't just the addition of a sixth reel, but the tall ship-in-a-bottle wilds that now appear, each capable of covering an entire reel. Better yet, they can display multipliers of 2x, 3x or 5x.
Conclusion: Treasure Happy or Sunken Bankroll?
I don't know what the game's RTP is before and after the Treasure Reels are open. The game doesn't offer that information. Overall, it's listed at 96.12%. So, I conducted a little experiment to feel it out for myself.
In demo mode (I wasn't risking my cash on this – it's a high variance game, after all), it took me approximately 250 spins to unlock the Treasure Reels. At $2 per spin, I had lost $113 by this point, triggering the Ocean Spins once along the way (+$56).
With the Treasure Reels finally open, and wild multiplier ships now sailing the high seas, things immediately began looking up!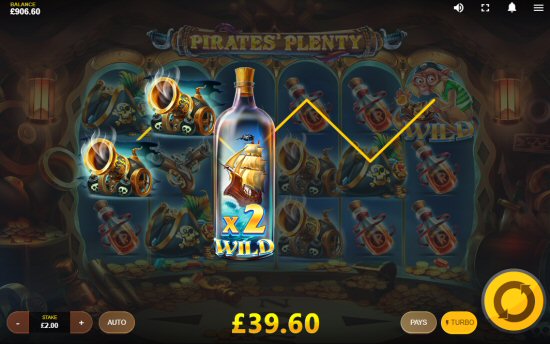 Within 25 spins I had almost recovered all my losses, down just $12. I was very hopeful that waiting out the Treasure Reel would prove wise. Unfortunately, my play-money bankroll sank to the bottom of the see from there. By spin 100, I was down $92. It was a fluctuation of ups and downs; much like the crest and trough of waves on the ocean, but never did get back above my starting point.
I will say I had a fun time doing my research for this review of Pirates Plenty Slot. It's a very entertaining game, but also one that can cause players to bet more than they might can afford in hopes of unlocking the Treasure Reel. Unless you've got deep pockets, be careful with this one!
#1 Canadian-Friendly Casino

Jackpotcity.com  is our editorial pick for your gaming needs. Currently offering an entire suite of casino games, as well as a wide range of Canadian deposit options, JackPotCity truly offers world-class gaming.