18 Feb
Review of Betsoft's Max Quest: Wrath of Ra
Max Quest: Wrath of Ra Slot by Betsoft. Finally, a real money online gambling game that kicks ass!

Over the last couple of decades, we've seen a supreme progression in iGaming innovations. Online slot machines have gone from mimicking the classic reel slots of terrestrial casinos, to unique, feature-rich games. But so many producers fail to deliver in their claims of offering an immersive, playable story line.
Microgaming did it years ago with the launch of Max Damage and the Alien Attack. It's a first-person shooter where the player flies around in an airship shooting down aliens and enemy spacecraft. Players increase the power of their arsenal the longer they play, and win credits for every enemy they destroy.
As fantastic as the concept sounds, that game never really took off. The game mechanics weren't up to everyone's expectations; at least, not in comparison to PC and console video games. Many players felt that their skills had little to do with their success in the game, as the premise described.
Now, thanks to one very imaginative design crew at Malta's Betsoft iGaming studio, a groundbreaking new title is wowing the masses. They call it Max Quest: Wrath of Ra. It's been enthralling online slots fans around the globe since it's release in late October 2018.
Max Quest: Wrath of Ra Slot Review
Although it's labeled as a slot machine, there are no reels, no revolving symbols, no match-making requirements in this game. It's a genuine adventure through Ancient Egyptian tombs in search of Ra; the God of the Sun and creator of all Earth's lifeforms.
Adventurers begins their journey into the temple by selecting a room to investigate. There are five rooms, with 5 different price ranges, scaling from $0.05 up to $1.00. This represents the value of each bet – each bullet – shot at an enemy. They include everything from small scarab beetles, to mummies, to Tahawy Warriors and jeweled Bataantas.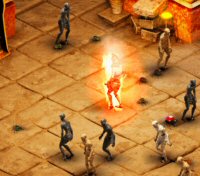 Every bullet shot at an enemy has a chance of killing it, thereby awarding a prize. The bigger the enemy, the lower the odds of killing it with each shot, but the higher the prize for doing so. You can aim at a specific target with your mouse, then click to shoot (or tap on a mobile device). Don't worry about missing, though. Every shot is a hit, ricocheting off the floor or wall to hit an enemy.
Sometimes, when a scarab or mummy is destroyed, it will rise from the ashes to become a Risen enemy. You'll know when this happens, as the enemy will be on fire. These guys are extremely hard to kill, but deliver fantastic prizes of 50x to 2000x the bet for a Risen Scarab; 75x to 5000x for a Risen Mummy.
Loot Chests & Level Progression
To increase the chances of killing a target – especially the tougher ones – players can purchase Loot Chests for $5, $10 or $20. Within each is a random weapon of greater strength; shotgun, grenade, machine gun, laser and plasma rifle. The cost of the chest won't determine the weapon awarded. That much is random. But it will effect how many bullets (or grenades) the player receives.
While playing a room, you'll only have a few minutes before the level is complete—unless a boss rises. At random, one of the Egyptian God bosses may rise from the ashes. If so, you'll have a chance to kill him for major rewards. Some are way easier to beat than others. I finished off Osiris in about 5 minutes, but spent nearly half an hour fighting Ra, taking off only about 2/3 of his strength, before he left the room.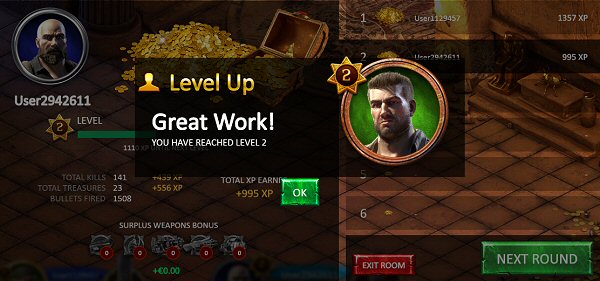 At each level's end, you'll gain experience points (XP). XP will determine your level as you progress through the game. One of the rarest features unlocks with a kill, wherein your female partner will show up with a weapon of her own to help blast away the targets. Every kill she makes costs nothing, but gains credits.
My Strategy for Wrath of Ra Slot
Is there a more effective way to play this game? According to Betsoft, Max Quest Wrath of Ra Slot has a 96% RTP, which makes you think there can be no real strategy. Speaking from experience, however, I believe there is.
Killing scarabs and mummies is the only way to trigger any Risen forms, which are worth a lot more for killing. My strategy was to kill only these two creatures, and only with the original weapon. When one rose in fire, I would pay the $20 to purchase better weapons, and use them to kill it. The payout was almost always large enough to exceed the cost, and put me in the profit zone.
I spent about an hour playing the game in demo mode today today. At first, I was going only for the bigger creatures, and quickly ended up $30 in the hole. I then changed my strategy to kill only mummies and scarabs. By the time I was done (including a very long stint attempting to kill Ra), I ended up with $147.30 profit. Good luck or effective strategy? I'll need to play a lot more to find out. But for now, I'd recommend sticking to that plan of action.
#1 Canadian-Friendly Casino

Jackpotcity.com  is our editorial pick for your gaming needs. Currently offering an entire suite of casino games, as well as a wide range of Canadian deposit options, JackPotCity truly offers world-class gaming.