7 Jan
1000 Diamond, 105 Ways to Bet on Roulette with a Jackpot
Play jackpot roulette online with Playtech's 1000 Diamond Bet Roulette.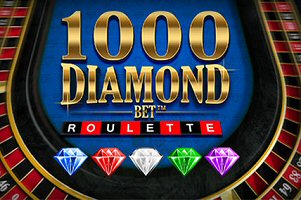 In the latest follow up to out Casino roulette 101 series, we'll be talking about a unique roulette variant that you can find online at Playtech-powered gambling sites. It's called 1000 Diamond Bet Roulette, and it's the only version we know of that gives players the option to play roulette with a jackpot.
This interesting little title was produced by Playtech a few years ago. It follows the basic rules of 100 to 1 Roulette, but with a twist. Instead of featuring five different shapes in place of the zero(s), those five positions are each imbued with multi-colored diamonds. If the winning slot happens to be one of those diamonds, and you—the player—happens to have bet on that winning diamond, the payout is determined by a random bet multiplier that can award up to 1000x the bet. Hence the name, "1000 Diamond".
Let's take a closer look at this curious version of roulette, and a few other unique features it comes with.
Play Jackpot Roulette Online by Playtech
Unlike a traditional roulette game, this one features 100 numbers (1-100) on its wheel. The numbered section of the table diagram spans an area of 10×10, instead of the traditional 3×12. As usual, half of the numbers are red, the other half black, and players have the even-money option of betting on Black/Red and Odd/Even. However, there is no High/Low betting option.

Left of the number area, alongside the 1-10 column, is a unique section that depicts five diamonds. They appear in white, purple, red, blue and green. Each diamond is the equivalent of a 0 on a standard roulette table. Betting on any of these diamonds is akin to betting on a single number, except that the payouts can range anywhere from 40x to as high as 1000x the bet.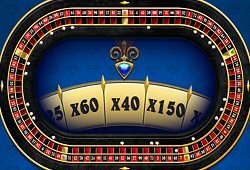 Don't get too excited, now. Paying 1000 to 1 would give a diamond bet a dreamy 853% RTP, but that's not the case. The jackpot wheel that spins round and round contains 9 different values of 40x, 60x, 101x, 125x, 150x, 200x, 250x, 500x and 1000x. Three of those values (40x, 60x and 101x) represent a negative expectation (house edge). The other six offer a positive expectation (player edge). But those "other six" only appear in rare order.
The lowest three appear in many, many more instances on the so-called jackpot wheel, much like any video slot machine built since the mid-1980s. In this way, the creator can control the probability of a 1000x diamond jackpot payout occurring, and while Playtech doesn't provide the public with an exact RTP on this title, I can assure you, the odds will be far from your favor.
Specialty Bets in 1000 Diamond Bet Roulette
Another unique feature of this game is the ability to place specialty bets with a single press of a button. They include what the game's creators call "Lucky Numbers" and a "Quick Bet".
The Lucky Numbers option instantly places all possible multi-number bets on the single number you choose to bet on. For example, if you place a single-number bet on 13, then press the Lucky Numbers button, the game will instantly place a chip on each 2-number line and 4-number intersection that touches the number 13. In essence, you'd be betting:
1 chip on 13
4 chips (1 each) on 3/13, 12/13, 13/14 on 13/23
4 chips (1 each) on 2/3/12/13, 3/4/13/14, 12/13/22/23, 13/14/23/24
The Quick Bet option is similar, but this time betting on all single numbers in the 10-number column, and 10-number row, of your single chosen number. With this option, a single-number bet on 13 would place a total of 20 bets as follows:
20 chips (1 each) on 3, 11, 12, 13, 14, 15, 16, 17, 18, 19, 20, 23, 33, 43, 53, 63, 73, 83 and 93
1000 Diamond Bet Roulette Pay Table
The following pay table does not include specific bet multipliers for diamonds, since there's no way to determine the true odds or edge. The number of positions per bet multiplier on the jackpot wheel is an unknown variable. All other info, including payouts, odds of winning and house edge are provided.
| | | | |
| --- | --- | --- | --- |
| Bet Type | Payout | Odds of Win | House Edge |
| 1 Number | 100 to 1 | 0.95% | 3.80% |
| 2 Numbers | 49 to 1 | 1.90% | 4.70% |
| 3 Numbers | 32 to 1 | 2.85% | 5.70% |
| 4 Numbers | 24 to 1 | 3.80% | 4.80% |
| 5 Numbers | 19 to 1 | 4.76% | 4.70% |
| 10 Numbers | 9 to 1 | 9.52% | 4.80% |
| Even or Odd | 1 to 1 | 47.62% | 5.30% |
| Black or Red | 1 to 1 | 47.62% | 5.30% |
As you can see, the casino's house edge is much worse than a standard game of European roulette, where the edge on any bet is a static 2.7%. If you always wanted to play jackpot roulette online, it's got appeal as a novelty game. But I wouldn't recommend it for much more than that.
#1 Canadian-Friendly Casino

Jackpotcity.com  is our editorial pick for your gaming needs. Currently offering an entire suite of casino games, as well as a wide range of Canadian deposit options, JackPotCity truly offers world-class gaming.