1 Nov
Microgaming Suplexing the Competition in Lucha Legends Slot
Microgaming treads new online slots theme with new Lucha Legends.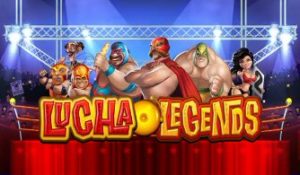 The delivery of new online slot machines from Microgaming is no surprise to their partner casinos or customers. Every month, a flock of new games hit the digital scene. But with over 800 titles already on the market, it's incredibly rare to see the company treading new ground with a fresh theme.
That's exactly what fans of the company's award-winning slots portfolio are privy to this month. Today, November 1, 2018, Microgaming is suplexing the competition with the launch of its latest creation – Lucha Legends Slot.
Mexican Wrestling a New Online Slots Theme for Microgaming
If you've ever glanced over the vast portfolio of digital slot machines by Microgaming, you probably thought there was no thematic stone left unturned. Chances are, the design crew at their Isle of Man headquarters had the same idea. But, once again, as they always seem to do, Microgaming pulls another trick out of its proverbial hat.
The new Lucha Legends Online Slot brings to life the exciting world of Mexican wrestling. This is not the first online slot machine to take on the masked wonders of the popular Central American sport. But as with so many of its creations, Microgaming seems to have outdone its competition with this one.
Let's have a closer look…
Lucha Legends Online Slot – Beneath the Masks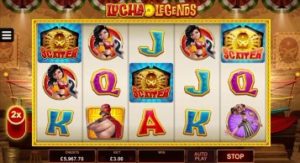 The new Mexican wrestling slot comes with 5×3 reels and 25 fixed paylines. Its HTML5 build makes it compatible with all major devices, desktop and mobile, including Android and iOS. It has a min/max bet range of $0.25 to $75, with a maximum payout of 165,000 coins.
As the name implies, Lucha Legends feature five of Mexico's finest wrestlers. They include the red-caped El Diablo, the green giant Marito, the ever-hungry Burro, and the pint-sized wrestling duo of Sal & Pepe.
These characters, along with the lovely ring girl and energetic referee, make up the high-paying symbols. Festive playing card values of J-Q-K-A make up the lower paying variety. Special symbols include the Lucha Legends Logo as the wild, and the Championship Belt as the scatter.
Each wrestler has a signature move that can trigger the Super Wild Feature. When this happens, the wrestler dives onto the screen and performs his (or their) special move upon the reels. A number of extra wild symbols, payout multipliers, or both, will appear, boosting winnings.
The game also offers a Power Up Feature. A meter on the left side grows throughout each session. Once it is full, it initiates a 2x bet boost, in which the reels spin at 2x the value of the total bet; (equivalent to 2x win multiplier).
Last but not least, a trio of scatter symbols will award 10 free spins. If the 2x Power Up feature is active when the free spins trigger, it will carry over to the free games. The Lucha Legends signature moves also have a higher chance of triggering during free spins.
Final Thoughts…
Overall, being a closet fan of Mexican wrestling, I find this game quite enjoyable. I especially appreciate that Microgaming took the time to come up with a new online slots theme; not an easy feat for the company with the world's largest iGaming portfolio.
The new Lucha Legends Slot is particularly good for casual gamers. It has a low-medium variance, so the wins hit often enough to keep the thrills coming. It's also got a solid 96.38% RTP, so it's not impossible to come away with a nice win.
#1 Canadian-Friendly Casino

Jackpotcity.com  is our editorial pick for your gaming needs. Currently offering an entire suite of casino games, as well as a wide range of Canadian deposit options, JackPotCity truly offers world-class gaming.