15 Sep
How Online Casinos are Continually Adapting to Demand
Mobile live casinos adapt to ever evolving demand of players.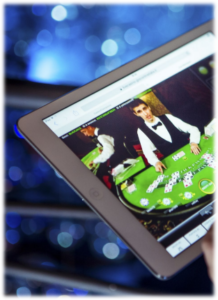 The online gambling industry has changed so very much over the last two decades. Then again, most industries do, especially those operating in the field of technology. Today, we'll take a close-up look at how online casinos are continually adapting to the discriminating tastes and ever-evolving demands of players.
To better understand these key developments, and the important role they've played in strengthening the market, we have to start at the beginning. Don't worry, I'll try to be brief…
The Late 1990's Bring the First Online Casinos…
In the earliest stages of online casino gambling, there wasn't much to offer. A few table games and a handful of slot machines at less than half a dozen websites. That was about it. Consequently, there weren't too many players taking advantage. But for those who did partake in, they unanimously agreed – we want more!
So, they gave them more. More online casinos opened. More software companies came along to supply those casinos with a rapidly increasing selection of games. As time went by, technology was able to give them better security and platform stability. And that, in turn, drew more players to the virtual arena.
However, the market began to stagnate as players decided it still wanted more. But this time, it wasn't more games. Their desire was the realistic experience of bricks-and-mortar casinos.
Live Casinos to the Rescue
Between 2003 and 2006, the live casino market was unfolding. Players now had access to the most realistic experience possible. Real dealers, real tables, real cards, playing amongst other real players.
Early adopters of live casino games weren't too successful, since internet connection speeds were still slow in those days. But when Evolution Gaming came along in 2006, things began looking up. This company was able to provide high quality video and audio without all the usual lag. To this day, Evolution is the world-class leader in online and mobile live casino gaming. Which brings us to…
The Mobile Gambling Revolution
This particular demand took more than a decade to truly develop; partly because companies jumped the gun. Microgaming introduced the first mobile casino games way back in 2003, long before touch-screens came along. Surely you remember the old flip-phones—that's what these games were played on. There were very few games, the screens were tiny, and it just wasn't much fun.
Fast-forward to 2007, when Apple launched the first iPhone. Soon after came Android smartphones. A few more years past before enough people were using these devices, and that's when the mobile gambling revolution was born.
From 2010-2014, growth was slow. It was the same problem as before—not enough mobile casinos, not enough games, and nowhere near enough optimization for mobile users. The transition to HTML5 fixed that, providing a single web development mark-up language that was compatible with virtually every desktop, laptop, mobile and tablet browser in existence.
Best of Both Worlds – Mobile Live Casinos
The next step was obvious to anyone paying attention; the combination of realistic gaming with the ultimate convenience of playing anywhere, anytime, via smartphones and tablet devices. Players were introduced to mobile-compatible live casino games, and their popularity continues to soar with each passing year.
What's Next? VR Gambling in the Works
Just when you thought there was nothing left to revolutionize the online casino industry, think again. Virtual reality has been around for a few years now, but its true potential has yet to be uncorked. The online gambling sector has been dabbling in VR for a few years, but nothing has really solidified yet.
That's because they all want to get it right the first time. Companies are working hard to put together a VR gaming product that meets the discriminating tastes of their players. One that gives them the absolute most realistic, desktop or mobile live casino experience never imagined. When it finally arrives, no doubt the most innovative companies will already have the next big thing stewing on the back burner.
#1 Canadian-Friendly Casino

Jackpotcity.com  is our editorial pick for your gaming needs. Currently offering an entire suite of casino games, as well as a wide range of Canadian deposit options, JackPotCity truly offers world-class gaming.