13 Aug
Genesis Gaming gets Creepy with Zombie Online Blackjack
Prep for the Zombie Apocalypse with new Zombie Blackjack game.
Fear not my fellow earthlings, the Zombie Apocalypse is not yet upon us. But there's no harm in gearing up for it while you enjoy the new Zombie Online Blackjack game; the latest release from Genesis Gaming. Of course they did…

Thematic games have been popular among the online casino crowd for decades. Normally, something of this undead nature would be applied to slot machines. In fact, we've seen an influx of zombie slots for years now, mostly following the rise of the popular TV series, The Walking Dead. But infusing creepy, flesh-eating ghouls into an online blackjack game? That's a new approach we haven't seen before. So, at the least, kudos to Genesis Gaming for taking digital table games into a new realm of virtual horror.
New Zombie Blackjack Game Not So New?
This isn't exactly the first time gamblers have been introduced to Zombie Blackjack. The game was actually developed first by famed gambling games creator Geoff Hall; the celebrated inventor of games like Blackjack Switch and Free Bet Blackjack. Mr. Hall sold his idea to Scientific Games, who presented it on the land-based casino floor of The Venetian in Las Vegas in the summer of 2017. Needless to say, Zombie Blackjack was an instant hit with today's younger gambling generation.
Now one year later, following successful negotiations with its land-based patent holders, Genesis Gaming is the first to bring Zombie Blackjack into the online realm of gaming. They're interactive recreation is inspiring, even managing to impress Geoff Hall himself.
"Genesis' interpretation of Zombie Blackjack game-play is spot on," notes Hall in a press release announcing the launch of online Zombie Blackjack at Genesis Gaming-powered gambling sites. "Particularly, the game's digital visual and audio effects add a thrill and excitement dimension that we simply cannot do in the land-based version of the game."
Zombie Online Blackjack Features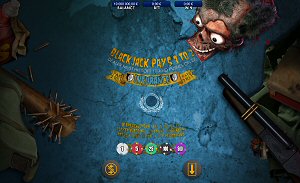 It goes without saying that the zombie theme is felt throughout the game's infrastructure. The table is splattered with blood and decorated with your standard zombie apocalypse weaponry. The cards are dealt from the (surprisingly pearly) teeth of a zombie skull. The macabre sound effects add to the sinister motif. It's all delightfully creepy!
For the most part, it's your standard game of blackjack, wherein players bet on their ability to beat the dealer's hand by having a total closer to 21 without going over. There's a genuinely thematic catch, though. In certain circumstances, players can actually bring a busted hand back to life! Here's how it works…
If the player's hand busts, and the dealer's up card is a 7, 8, 9, 10, J, Q, K or A, the player does not instantly loose. Instead, their original bet becomes a "coffin bet". If the dealer's hand totals 22 or below, the coffin bet is lost. If, however, the dealer busts with a hand of 23+, the player is paid even money on the coffin bet.
This is a big advantage to players, so of course there's has to be a trade-off to sustain the house edge. In this case, it's the 'Push 22' rule. If the dealer busts with a 22, any player who did not bust, or was not dealt a natural blackjack, will push, or tie (their bet is returned).
The new Zombie Blackjack game went live at Asian-facing online casinos in late July. As of August, it's now available at all Genesis Gaming-powered online casinos. Bon appétit!
#1 Canadian-Friendly Casino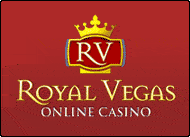 RoyalVegas.ca is our editorial pick for your specific gaming needs in 2022. Currently offering an entire suite of live dealer games, as well as a wide range of Canadian deposit options, RV truly offers a world-class gaming experience.