3 Jul
Branded Jumanji Slot comes to NetEnt Online Casinos
Jumanji board game becomes new Jumanji Online Slot from NetEnt.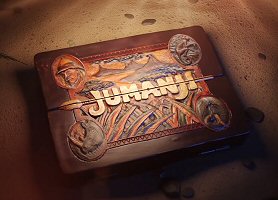 NetEnt is the world's leading developer of branded online slot machines. The company has turned such famous titles as Scarface, Jimi Hendrix, Guns n' Roses, and even The Creature from the Black Lagoon, into some of the most popular internet gambling games in existence. Now, they're proud to bring us the first branded Jumanji Slot.
Launching this week at NetEnt online casinos, the Jumaji interactive slot machine is already a hit with players. What started as a fantastical 1995 Hollywood film starring the unforgettable Robin Williams, then became a real life board game; although not quite so realistic as the movie version.
The 2017 remake, starring Dwayne 'The Rock' Johnson, Jack Black, Kevin Hart and others, re-popularized the title; so much so that NetEnt sought a deal with the producers of the original film to turn it into a first-of-its-kind online slot that merges the Jumaji board game directly onto the reels.
New Jumanji Online Slot from NetEnt
NetEnt CPO Henrik Fagerlund notes the immense success of both Jumanji films as the inspiration for creating a new game like nothing the industry has ever seen before.
"The Jumanji movie was a great success and we know it has fans all over the world. Making a slot game true to the fantastic features of the movie has been challenging but most of all great fun," says Fagerlund.
"We found a way of incorporating both board game features and all the excitement into a slot game and the game has already been well received by players," he adds.
Jumanji Slot Features take Adventure to the Extreme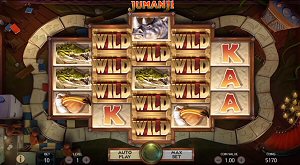 NetEnt began with a unique 3-4-5-4-3 reel set; one we've seen before, but not very often. Upon the reels, they infused wild creatures that make up the game pieces; lions, pelicans, rhinos and crocodiles. They then laid it upon the Jumanji board game and injected a soundtrack with real music and sound effects from the hit movie, thus completing the thematic ensemble.
There are five adventurous features to unlock when playing the new Jumanji slot. They include:
Wild Stampede: On any given spin, after the reels are set in motion, the Wild Stampede feature can trigger. You'll know when it does. The entire screen begins to quiver just before a crash of rhinoceroses stampede across the reels, leaving a strain of wilds in their wake.
Sticky Vines: When triggered, vines will wrap up any wilds and symbols that create a winning combinations and hold them in place. Players are granted Sticky Win Re-Spins for each consecutive win, wrapping up the additional win combos and respinning the reels until no additional wins appear.
Monkey Mayhem: Another randomly triggered feature, Monkey Mayhem can initiate after any spin. Once winnings are paid (if applicable), the monkeys come out to play under the game board. The mischievous creatures will grab symbols from behind and move them into new positions, guaranteeing a win of some size.
Monsoon Wilds: When the monsoon strikes—another random feature—the crocodiles run for cover. They will scurry across one or two reels, converting all of those symbols into wilds.
And last but not least….
Jumanji Board Game Feature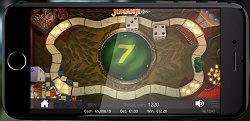 This is by far the best feature of the game, where players actually get to participate in the board game. Players need to see 3+ Jumanji board game symbols on the screen to unleash this most lucrative feature. The player will select from one of four game pieces, then roll the dice to move across the board. Each position will award something; free credits, extra roll, free spins, the ? mystery prize…
I'll leave it at that so I don't give away too much. If you're interested in playing the new Jumanji online slots for free or real money, it's available now at all NetEnt online casinos, for desktop and mobile.
#1 Canadian-Friendly Casino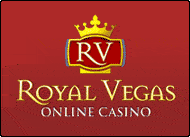 RoyalVegas.ca is our editorial pick for your specific gaming needs in 2022. Currently offering an entire suite of live dealer games, as well as a wide range of Canadian deposit options, RV truly offers a world-class gaming experience.