25 Jun
How to Win the Mega Fortune Dreams Progressive Jackpot Strategy
Mega Fortune Dreams Slot: Strategy for winning progressive jackpots.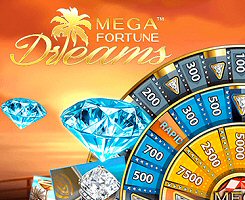 If there's one thing all slots fans have in common, it's the desire to one day win an ever-illusive jackpot prize. Oh, there's a very small fraction of us who have done it. But for the rest, it's an inexorable dream. All that money… guaranteed to be won by someone. "Will it ever be me?" we ask ourselves.
The Mega Fortune Dreams Slot, released by Swedish digital games developer NetEnt in mid-2014, has answered "Yes!" to that question 23 times to date. Every single person who won the jackpot has become an instant multi-millionaire. The latest was a player from Belgium, who struck the ultimate prize on June 12, 2018, collecting a colossal €4,252,219!
How to Win Mega Fortune Dreams Slot Jackpot
Mega Fortunes Dreams is a 5 reel, 20 line game with special wheel bonus round that can award the progressive jackpot. It's no easy feat, mind you, but here's how it's done.
In order to access the Bonus Wheel Game, a player must see no less than 3 Bonus Wheel Symbols appear on the reels in a single spin. This triggers the bonus game, which displays a large wheel on the screen. The wheel contains three circles.
First, the grey outer circle spins, where the symbols alternate between a small instant credit prize, or an arrow. This gives players a 50% chance of landing an arrow and progressing to the second, blue wheel. On this wheel, each arrow is surrounded by five larger instant prizes. This gives players a 16.6% chance of landing on an arrow to reach the third and final, inner-most wheel. There are also 2 Rapid Jackpot positions on this wheel, for an 8.3% chance of releasing the games smallest progressive jackpot, worth an average payout of about €575.
Once the gold inner wheel is reached, there are just 12 prize positions, meaning each has an 8.3% chance of hitting. Ten of them will pay anywhere from 500 to 1500 credits. Another pays the game's Major Jackpot, for an average payout of €56.5k. The last is the diamond arrow, which points directly at the supremely lucrative Mega Jackpot. To date, this one pays an average of €3.758 million every 9 weeks.
Now that you know how to release that ultimate prize, the question is, what can you do to increase your odds of winning it?
Strategy for Winning Progressive Jackpots
A progressive jackpot can pay at any moment. Even if it struck a few hours ago, it can happen again. Or, it could be months—even years—before it strikes again. It's truly random, so don't let a recent jackpot win discourage you.
Bet size is one of the most important factors. You'll have to activate all pay lines to be eligible for the progressive prize. You can bet any amount per line, and still be able to win the jackpot, whether it's the lowest possible increment of €0.01 per line, or the highest. The jackpot can release either way.
However, it's a known fact that the higher you wager, the higher the chance of releasing the jackpot. It's only a minuscule difference, and by no means required! But it does exist, and is worth noting when developing a stratwgy for winning progressive jackpots. As a point of reference, the last win was recorded on a €1 spin (€0.05 per line).
Bankroll management is also incredibly important. The odds of winning any progressive jackpot is millions-to-one. Never spend every dollar you have under the misconception that you're due for a win. The random nature of slots don't work that way. Bet what you can comfortably afford to bet per spin, and take breaks to rebuild your bankroll when necessary.
#1 Canadian-Friendly Casino

Jackpotcity.com  is our editorial pick for your gaming needs. Currently offering an entire suite of casino games, as well as a wide range of Canadian deposit options, JackPotCity truly offers world-class gaming.