18 Jun
KamaGames launches New Poker Game on Pokerist
Pokerist social casino games app introduces MTTs and Split Bet Poker.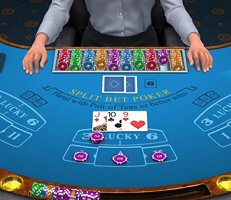 KamaGames is the developer of immensely popular social casino and poker gaming apps. Its flagship mobile product, Pokerist, received some major upgrades recently. The social poker app is now offering multi-table tournaments (MTTs), and a new poker game they call Split Bet Poker.
The European company launched Pokerist in 2010 for iOS and Android mobile devices. It's since become one of the world's leading social gaming apps. The mobile app offers free-to-play PvP poker games, as well as casino games like blackjack, baccarat and roulette.
In April 2018, Pokerist reached a significant milestone, achieving 100 million members, with 530,000 active daily users. That milestone puts Pokerist in the #3 position among leading social poker apps, right behind Zynga Poker and WSOP.
Pokerist Introduces Split Bet Poker
As of early May, there's a new poker game in the mobile arena. KamaGames calls it Split Bet Poker, and it's got an intriguing twist that players are falling in love with. It's a mixture of several popular poker and casino games, merging 5-Card poker and Holdem poker with traditional house-banked casino card games. The twist here is that players can decrease their bet along the way.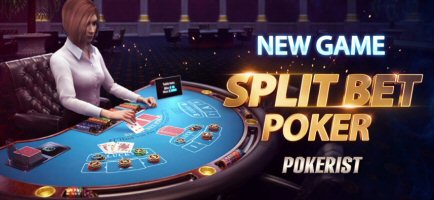 In traditional poker games, a player will start small and increase their bets, based on hand strength. In Split Bet Poker, the opposite rule applies. Players start with a larger bet size, and as cards are revealed, they have multiple opportunities to decrease their bet by 1/3.
Split Bet Poker is a basic 5-card poker game, but like Hold'em games, there are community cards in play. However, it's also a house-banked game, so players aren't competing against one another—only the dealer, or house.
Players are dealt 3 hole cards, to be combined with 2 community cards. The game starts with the player making a bet. Then their 3 hole cards are revealed. At this point, they can choose to keep their original wager, or reduce their bet by 1/3. Next, one community card turns face up. Again players have the choice or removing 1/3 of the initial bet size. The final community card turns, and winning hands pay according to the pay table.
This format is viewed as highly beneficial. It allows players to retain some of their virtual chips when a hand isn't developing. And maintain a larger bet when the cards are looking strong. Since it's house-banked, you'll need a pair of 10s or better to win. The better the hand rank, the higher the payout, up to 1000:1 for a Royal Flush.
Social Casino Games App Launches MTTs
Just last week, millions of Pokerist users got their wish. The social poker app is finally offering the universally popular MTT format. Multi-table tournaments allow a large group of players to compete in a single tournament. As participants fall to elimination, the number of tables drops, and players merge onto new tables, eventually reaching a final table.
Generally, MTT poker games are provided by real money poker apps and online poker rooms—not in the social, free-to-play arena. However, considering the massive growth of Pokerist in the last six months alone, the need for MTTs was beyond apparent.
KamaGames expects the new MTT format to appeal to the more "experienced, committed and high-level players" of their social casino games app. Overall, it should be a great addition to their existing line-up of Sit'n'Go (SNG), Shoot Out, and regularly scheduled tournaments.
#1 Canadian-Friendly Casino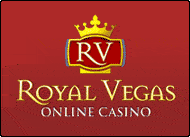 RoyalVegas.ca is our editorial pick for your specific gaming needs in 2022. Currently offering an entire suite of live dealer games, as well as a wide range of Canadian deposit options, RV truly offers a world-class gaming experience.