21 Mar
5 Years of Opposition to New Casino in Peterborough, Ontario
The new casino on Crawford Drive is well underway, and set to open later this year, despite 5 years of local opposition to the Peterborough, Ontario casino.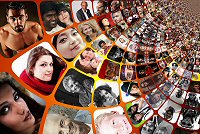 The government of Ontario – all of Canada, for that matter – is one of democratic allegiance. At its foundation, this means that the people have the right to participate, directly or indirectly, in deciding what's best for them. The majority voice of the people should sway the decisions of local, provincial and federal officials.
In Peterborough, Ontario, that doesn't seem to be the case at all. Here, there's a new casino already under construction on Crawford Drive. Construction has been underway since September of 2017 on the new Shorelines Casino Peterborough, with the facility's grand opening to occur sometime later this year. Yet there's overwhelming opposition in the local community, and there has been for the last 5 years.
Majority Opposition to Peterborough, Ontario Casino
Just this week, the results of a new casino support survey were released. The poll was commissioned by the Mississaugas of Scugog Island First Nation (MSIFN), and conducted by the Mainstreet Research group of Toronto. The purpose was to gauge support for new casinos planned for three Ontario communities; Peterborough, Ajax and Pickering.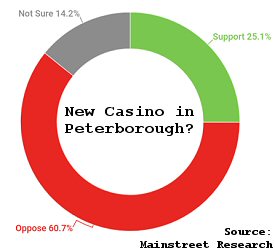 The results, especially in Peterborough, were quite telling. Of those surveyed, an overwhelming 60.7% are opposed to the casino. Only 25.1% approve of its construction, while 14.2% said they're "not sure". Of course, with the facility more than halfway complete, it's a little late for now.
It wasn't too late when the MSIFN commissioned a similar survey two years ago. The results of the 2016 poll were unquestionably similar. Back then, 76% of the residents were voicing opposition to a new casino in Peterborough.
Going back even further to April of 2013, another poll showed that 65.7% of locals opposed plans for a local casino gambling facility.
Residents Calling for New Local Leadership
Throughout it all, Peterborough Mayor Daryl Bennett has supported the casino expansion. Back in September, he said the new Shorelines Casino would be good for the community. Clearly, his constituents disagree.
The poll conducted this year asked residents if they felt they're mayor was deserving of re-election. Exactly two-thirds (66.6%) say it's time for new leadership in Peterborough. Only 15.1% believe he's worthy of another term. The 2016 poll asked the same question, at which time 60% said it was time for a new mayoral representation.
New Casino in Peterborough is Coming
Like it or not, the new Shorelines Casino Peterborough, under the management of Great Canadian Gaming, is going to open on Crawford Drive later this year. The facility is replacing the existing Shorelines Slots at Kawartha Downs in Fraserville.
The slot machines currently installed at Kawartha will be transported to the new facility. A series of table games and other attractions will be installed as well. 150 staff members will also we transitioned from Kawartha Downs to the new location, with another 150 job openings expected.
Mayor Bennett and other City Councillors who support the facility are confident the Peterborough, Ontario casino will bring in an additional $3 million in annual revenue for the community.
#1 Canadian-Friendly Casino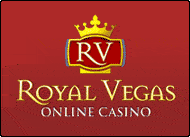 RoyalVegas.ca is our editorial pick for your specific gaming needs in 2022. Currently offering an entire suite of live dealer games, as well as a wide range of Canadian deposit options, RV truly offers a world-class gaming experience.