19 Mar
Play Real Money Casino Games on Samsung Note 8
Availability & efficiency of Samsung Note 8 real money casinos.
In September of 2017, Samsung's flagship 'phablet', the Galaxy Note 8, hit the floor running. With the failings of its predecessor, the Note 7, absent, the new premium-priced device hit 1%-1.7% market share in critical markets in its first month of sales. ZDnet gave the Samsung Note 8 a #1 ranking for several months straight, due to its supremely advanced technology, falling to #3 in best smartphones of 2018 just last week.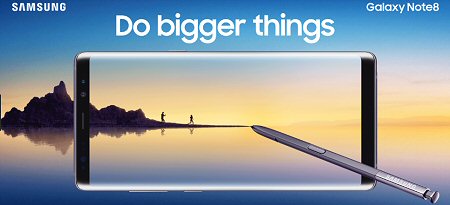 Millions of these phone/tablets have sold all over the world, with little sign of slowing. Take a quick look at the specs, and it's easy to see why so many people – especially the working class – are choosing the Galaxy Note 8 over competitors like the iPhone X, Google Pixel 2, and Galaxy S9.
But if you're reading this, chances are you don't want to see the specs. There's no need to convince you that the Note 8 is a worthy buy. No – if you're reading this, you already have one. What you're looking for is a new way to immerse yourself in gaming. Specifically, you're looking into playing real money casino games on Samsung Note 8.
Samsung Note 8 Real Money Casinos
With the device's release now 6 months behind us, you'll be glad to know that webmasters and software companies are all caught up to the capabilities of the Galaxy Note 8. Online casinos are designed to function seamlessly on mobile devices such as these, and the games' creators have taken the time to ensure their slot machines, table games and video poker titles all run smoothly.
Most issues were shored up a few years ago when developers began taking advantage of HTML5. The best thing to hit the internet since mIRC chat rooms, HTML5 is a modern marvel in programming that combines HTML, CSS and JavaScirpt into a single mark-up language. It allows advanced content (like casino games) to stream flawlessly across all major operating systems and screen sizes.
To put it simply, a website developed in HTML5 comes pre-optimized for display on any modern desktop, laptop, smartphone, or tablet. The trick, when any new device and/or OS comes along, is to make sure all the i's are dotted, and the t's are crossed.
Security of Galaxy Note 8 Casinos
The security of online casinos, in general, has been hashed and rehashed, time and again. With that in mind, I'll keep this brief. Reputable operators and payment processors employ the same stringent security measures as government banks. Yes, they can be susceptible to duplicitous impregnation. No system is 100% infallible. But the SSL and data encryption utilized by internet gambling services is as protective as it can be – so long as you choose a genuinely reputable casino operator.
With that being said, the actual security of playing real money casinos on Samsung Note 8 falls to the efficiency of the device itself. The Note 8 is equipped with two forms of user recognition – Fingerprint ID and an Iris Scanner. Admittedly, the Iris Scanner can be hit-or-miss, but the fingerprint technology is fantastic. Use either of these, and no one will be getting into your phone unless you allow it. Thus, maintaining the security of your account is as easy as not granting others access to your device. If you do allow someone else to use it, make sure you've logged out of your casino account first.
Real Money Casino Games on Samsung Note 8
With a near-tablet-size screen of 6.3" and a crystalline Quad HD+ resolution of 2960×1440, the graphic quality is simply stunning. Action buttons are easy to use, and bets easy to size, with a tap or swipe of your fingertip. If you're still infatuated with the novelty of the built-in S Pen, that can be fun to use here as well.
Performance wise, the Note 8 does an immaculate job of streaming high-quality video and games. Its powerful 10nm processor and 64GB RAM, combined with Vulkan graphics API, provide a fast, visually immersive experience,; even when multi-tasking between apps via the phone's App Pair technology.
Samsung Galaxy Note 8 Casino Apps
The Note 8 comes with Android 7, aka "Nougat". Almost every casino app on the market run on Android OS 4.1 (KitKat) and up. So compatibility is not an issue.
A lot of people prefer utilizing in-browser play for mobile. Apps clog up precious internal storage. But for those who enjoy the one-click convenience of apps, they are readily available.
Depending on where you live (UK mostly), you may be able to find apps for Samsung Note 8 real money casinos on the Google Play Store. If not, you can download them directly from most online casino websites. Just look for the 'Mobile' option and follow the directions.
#1 Canadian-Friendly Casino

Jackpotcity.com  is our editorial pick for your gaming needs. Currently offering an entire suite of casino games, as well as a wide range of Canadian deposit options, JackPotCity truly offers world-class gaming.