15 Mar
Everybody's Jackpot Slot from Playtech, Where Every Player Wins!
Never won a progressive jackpot before? You can now on Playtech's Everybody's Jackpot progressive slot.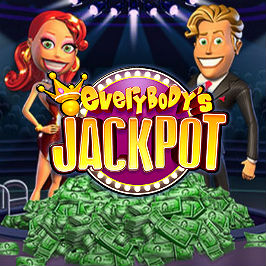 For decades, progressive jackpot slots have been built upon a rather simple set of rules. If a player gets lucky enough to fulfill whatever requirements are necessary, the jackpot releases. They win a ton of cash, and that's that. The jackpot reseeds and more players hope to get that lucky in the future.
There hasn't been much innovation or deviation from that in years. Sure, some games release for lining up the right combination; some on a random trigger; some after spinning one or more wheels in a bonus game. But otherwise, they're all the same.
Not anymore. Playtech shattered the mold with its game-changing release of the Everybody's Jackpot Slot. Now, every single player can be a progressive jackpot winner, whether they get lucky enough to strike it themselves or not. Here's how it works…
Everybody's Jackpot Progressive Slot
Everybody's Jackpot has a progressive jackpot that – as the name implies – everyone can win. When the jackpot is struck, the lucky player who unleashes it is instantly awarded 70% of its value. The other 30% is divided up among all other qualifying players who've spun its reels in the last 24 hours.
Of that 30%, the first half of it is divided equally among all players who made any qualifying wagers (minimum €50) in the previous 24 hours. The remaining 15% is distributed among those same players, but this time, it's divvied up proportionately, based on how much each player actually wagered. The more a player spends on Everybody's Jackpot, the higher their share of the prize will be.
How to Play Everybody's Jackpot Slot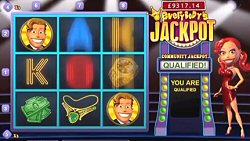 Playtech made sure everyone can enjoy this title, keeping it relatively simple, but thoroughly entertaining at the same time. It's built on a classic 3×3 reel set with 8 paylines, running left-to-right and top-to-bottom. It has a distinct game show theme to it, with a shiny-toothed host, sequence-dressed assistant and luxury prizes on the reels.
Everybody's Jackpot has a few special features as well. For one, wins on lines 4 and 5 (the diagonal lines; top-left to bottom-right, and top-right to bottom-left) pay out with a 3x multiplier. There's also a scatter symbol, the game's logo, which delivers scatter pays, based on a multiplier (1x to 200x) of the total triggering bet for landing 2 to 9 on the screen.
If 3+ scatters appear, the player receives 12 Free Spins. Wild symbols can appear on the reels during free games, substituting for all other symbols except scatters.
There's no special requirements to win the progressive jackpot. It can trigger at random, after any winning spin. Once it does, every qualifying player of the last 24 hours will share in the wealth!
Average Progressive Jackpot Win
Everybody's Jackpot progressive slot was introduced to Playtech online casinos in May of 2016. Since then, its jackpot has been struck a total of 222 times, paying out nearly $54 million to date! The average jackpot pays around $243,000, with an average release time of about every 7 days.
With that said, it's worth noting that the jackpot has not been struck in nearly 3 weeks! Its current jackpot value (at time of writing) is $392,362. Play responsibly, and good luck!
#1 Canadian-Friendly Casino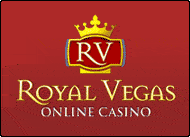 RoyalVegas.ca is our editorial pick for your specific gaming needs in 2022. Currently offering an entire suite of live dealer games, as well as a wide range of Canadian deposit options, RV truly offers a world-class gaming experience.
(Remember to Gamble Responsibly)