22 Jan
NetEnt's Twin Spin Deluxe Slot with Cluster Pays
NetEnt's new cluster pays slot machine, Twin Spin Deluxe.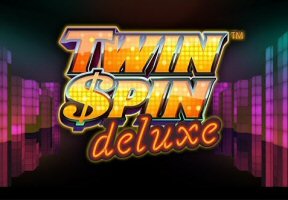 There's a lot of old adages that apply to NetEnt's new Twin Spin Deluxe Slot with cluster pays. "Bigger is better", "the more the merrier", and "there's nothing like a classic" come to mind. This game has a bigger set of reels, more symbols to cover them, and utilizes classic fruit machine symbols. But there's nothing else old-school about it.
The overall theme is clearly one of high-energy, with a techno-dance musical score. All of the symbols are displayed in bright neon, with a flashing city-scape in motion as the background. Personally, it's a bit too high-energy for me. I honestly had to mute the music within two minutes of playing just to keep at it long enough to scribe an unbiased review. If you were a 90's raver, though, you might enjoy triggering a few acidic flashbacks.
What I do like about NetEnt's latest creation, however, is its cluster pays system. It features a 6×5 reel set, with a pay table that awards prizes more like a jewel-matching game than a traditional slot machine. There are no paylines. When enough matching symbols land adjacent to one another – clustered together, as it were – you get paid. It's that simple.
Twin Spin Deluxe Cluster Pays Slot Machine
First things first, there are two ways to set your bet size in this game. You need to understand both to realize how much you're actually wagering per spin. The first is a general coin size of $0.01 up to $1.00. There are also 10 bet levels, increasing by ten coins per level (10, 20, 30… 90, 100). Therefore the overall bet range is $0.10 up to $100. Be careful not to set your coin size at $1, unless you intend to bet at least $10 per spin!
The symbols include your usual fruit machine slots icons, like cherries, bells, bars, 7s and diamonds. There are also playing card values of J, Q, K and A rounding out the lower-paying variety. Overall, it carries an RTP of 96.61%.
On the downside, there are no wilds in this game, nor any special features to trigger. Free spins do not exist. No multipliers, no second screen bonuses, no scatter pays. It's a very straight forward game, indeed. For that reason, only a niche group of players are really going to enjoy it.
Winning on Twin Spin Deluxe Slot with Cluster Pays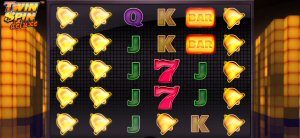 The Twin Spin Deluxe Slot does not have a lot of ways to get paid. To help players achieve those cluster wins, NetEnt made it easier by infusing it with the game's namesake 'Twin Spin' function.
Every spin of the reels starts out with two or more adjacent reels having identical symbols on them. They could be on any adjacent reels, since the cluster pay mechanism doesn't require left-to-right line-ups like traditional slot machines.
The twin nature of the identical reels can spread across additional reels at random. So on one spin, you may have 2 identical reels, and 4 on the next, up to a possible all 6 reels matching. However, I've found it rarely spreads beyond the required two.
In order to create a winning combination, there must be a cluster of at least 9 matching symbols. 9 will award anywhere from 5 to 50 credits, depending on the symbol. With a 6×5 reel set, up to 30 matching symbols can cluster for a maximum payout of 10,000 credits for an entire screen of diamonds.
#1 Canadian-Friendly Casino

Jackpotcity.com  is our editorial pick for your gaming needs. Currently offering an entire suite of casino games, as well as a wide range of Canadian deposit options, JackPotCity truly offers world-class gaming.