29 Sep
Unofficial Guide to Online Scratch Cards Canada
Online Scratch Cards Canada – Play and win instantly on your desktop or mobile device.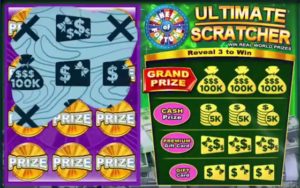 For decades, Canadians have been enthralled by scratch off lottery tickets. Following an amendment to the Criminal Code in 1969, provincial governments began instituting lotteries to help raise government funds for one cause or another. It's lead to the sale of instant-win scratch tickets in every province and territory across the country.
As technology progressed, so did the way we purchase those tickets. Instead of walking into a retail store and passing cash to the teller in exchange for a physical card, we can now buy scratch tickets online. Using a desktop computer or mobile device, scratching off a ticket is as easy as sliding a mouse, or swiping a finger across the screen.
'Pick your own numbers' lottery drawings have their appeal, of course. But the whole concept behind scratch cards is to expedite the process. Buy a ticket – scratch it off – collect the prize if you win. The ability to facilitate this process anywhere, anytime, via online scratch cards, is yet another marvel in the history of progressive technology.
Online Scratch Cards Canada
No matter where you live in Canada, you'll have rightful access to an online scratch ticket service. But for some Canadians, you may have to do your purchasing at international websites.
The country's lotteries are facilitated by the Interprovincial Lottery Corporation (ILC). The ILC operates under the joint ownership of five regional lottery commissions, each designated to provide lottery services in their respective provinces and/or territories. They include:
ILC Member
Area(s) Served
Atlantic Lottery Corp (ALC)
www.alc.ca
New Brunswick, Newfoundland and Labrador, Nova Scotia, Prince Edward Island
British Columbia Lottery Corp (BCLC)
www.bclc.com
British Columbia
Ontario Lottery and Gaming Corp (OLG)
www.olg.ca
Ontario
Lotto-Quebec
www.lotoquebec.com
Quebec
Western Canada Lottery Corp (WCLC)
www.wclc.com
Alberta, Manitoba, Nunavut, Northwest Territories, Saskatchewan, Yukon
Where Can You Buy Scratch Tickets Online?
Players located within the service areas of the ALC, BCLC and Loto-Quebec can go online, register an account, and purchase instant tickets.
Players in the OLG and WCLC service area (except Manitoba) cannot purchase online tickets through these regional websites.
OLG's internet gaming website, PlayOLG.ca, offers a wide range of gambling activities. However, their online lottery services are limited to the purchase of LOTTO Max and LOTTO 6/49 lottery draw tickets only. Instant-win scratch cards are not available.
WCLC does not sell lottery tickets online directly. Only players residing in Manitoba are able to access online scratch cards, through a partnership with the BCLC's and its PlayNow.ca website.
Buying Scratch Cards Online Outside of Canada
Anyone who lives in an area where online scratch tickets are not available—or anyone who wants a wider selection of instant win games to choose from—can still purchase them from internationally regulated websites. These games play out in the exact same manner.
Players will need to sign up an account and make a deposit with an online gaming website where digital scratch cards are available. Then, from a desktop or mobile device, they will be able to browse a veritable treasure trove of scratch games. Navigating the lobby in search of them may take a little practice as these games tend to be classified differently.
At Royal Vegas, for example, they are clearly labeled under the menu header, Scratch Cards. Another gaming site might call then Instant Win Games. More still pile them into group categories with Keno, Specialties, or simply Other.
Collecting Your Winnings
Redeeming a prize won on an online scratch card usually works the same way, whether you purchase it from a Canadian-based lottery or an international lottery website. In order to purchase a ticket, you must first open an account and make a deposit. Any winnings you receive will be deposited back into that account, available for withdrawal at any time.
Withdrawals are typically facilitated in the same manner the player chooses to deposit. Be sure to check the operator's deposit/withdrawal FAQs to determine your available options before registering an account.
In some cases, purchasing Canadian scratch cards that award a larger prize will require the player to visit their local Prize Claim Centre. ALC, for example, will not directly pay out instant win prizes of $10,000 or more.
BCLC, on the other hand, will pay out any prize up to $99,999 to your bank account. Prizes of $100,000+ will arrive in cheque form, via in-person hand-delivery by a BCLC representative. So again, read over the banking FAQs to make sure you understand what amounts can or can't be paid in a single, direct, lump sum.
#1 Canadian-Friendly Casino

Jackpotcity.com  is our editorial pick for your gaming needs. Currently offering an entire suite of casino games, as well as a wide range of Canadian deposit options, JackPotCity truly offers world-class gaming.
About the Author
Adalene Lucas: is our jack of all trades here at DBC. She is a skilled coder, gambler, writer and webmaster. She lives in Manitoba where she enjoys the lush landscapes and camping near Tulabi Falls. Nature gives her inspiration to write. When she's not immersed in nature, her favorite words are "game theory". She lives with her husband and their two Labradors, Kophy and Whisper.