10 Jul
How to Play European Blackjack Redeal
Learn how to play the latest craze in online blackjack variations, European Blackjack Redeal, available at all Microgaming no-download casinos.
I've been playing blackjack at live and online casinos for many years now. In all that time, I've come across some pretty interesting variations of the game. I always considered Blackjack Switch to be one of the most unique (although not great for players, due to the 1:1 blackjack payout and other rules), until I found this next one.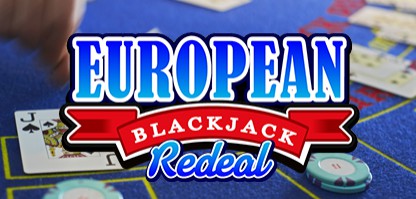 It's called European Blackjack Redeal, and it's available at hundreds of Microgaming powered online casinos. As the name implies, players can request a "redeal" of their own hand, the dealer's up card, or the last card dealt to their own hand (following a hit).
Is That A Good Thing?
How many times have you taken the risk of hitting a 12, only to be punished with a ten or face card? In this game, you can get rid of the entire 12-count hand, exchanging it for a hole new one. Or, you can take the risk, hit the 12, and if it busts, toss that ten-counter aside for a new (hopefully lower) card.
That's quite an advantage, don't you think? Indeed, you're right. But as always, such advantages come with a cost. Unlike the aforementioned Blackjack Switch, it's not the game's rules and paytables that are altered to swing the edge back into the casino's favor. It's the fact that you have to pay to make the exchange.
European Blackjack Redeal – The Catch
The price you pay to exchange one or more cards will depend on two major factors.
The amount of your original bet.

The advantageous nature of the redeal.
Unless you've busted your hand, you'll rarely pay anywhere near the original cost of the ante bet to exchange your hand. It will only scale near that mark if your original hand really stinks, and/or you've already taken at least one extra card. If you bust, the cost may actually exceed the ante bet.
Replacing the dealer's up card is usually much cheaper, while replacing the last card dealt will vary greatly upon the result.
Overall, I must say Microgaming has developed the pricing rules for European Blackjack Redeal to be ultimately fair, so there's no need to fear that you're being cheated. The house edge for this game, played under the fundamental rules of traditional European Blackjack, and with a basic decision-making strategy, 0.40% (RTP 99.60%)
How To Play European Blackjack Redeal
The object of European Blackjack Redeal, like all blackjack games, is to beat the dealer by achieving a higher total, without exceeding 21. As noted, aside from the redeal factor, the European Blackjack Redeal rules are the exact same as traditional European Blackjack. This means:
2 Decks of Cards used

Dealer Stands on Soft 17

Double on total of 9, 10, 11

Split only once

No Double after Split

Player can Hit Split Aces

Dealer does Not Peek for Blackjack

Insurance Bets N/A

Early Surrender N/A

Late Surrender N/A
Calling for a Redeal
There are three types of Redeal options the player can pay for:
Redeal My Hand: This option is available from the moment a hand is dealt, until it's over. If the player chooses this option, their entire hand will be taken away. Two new cards will be dealt, starting their hand over from scratch.
Redeal Last Card: This option becomes available after the player has Hit their original two cards. It doesn't matter how many cards a player has taken, even if the last card resulted in a bust. When this option is selected, the last card dealt will be removed and replaced with a new card from the top of the deck.
Redeal Dealer Hand: This option is available from the start of the hand. It will eliminate the face-up card in the dealer's hand, replacing it with a new card.
#1 Canadian-Friendly Casino

Jackpotcity.com  is our editorial pick for your gaming needs. Currently offering an entire suite of casino games, as well as a wide range of Canadian deposit options, JackPotCity truly offers world-class gaming.